I am an interfaith minister, certified spiritual director and board-certified clinical chaplain. I live and work in Santa Fe, New Mexico, where I have made my home for most of the past 32 years.
I am ordained by the Chaplaincy Institute (ChI) Interfaith Community in Berkeley, California. I completed the ordination program at the Chaplaincy Institute and also completed its Spiritual Direction Program. ["Ordination" means I was formally recognized by the body of ministers associated with my seminary after meeting very specific requirements. I must apply for and receive "Clergy in Good Standing" on an annual basis in order to maintain my ordination.)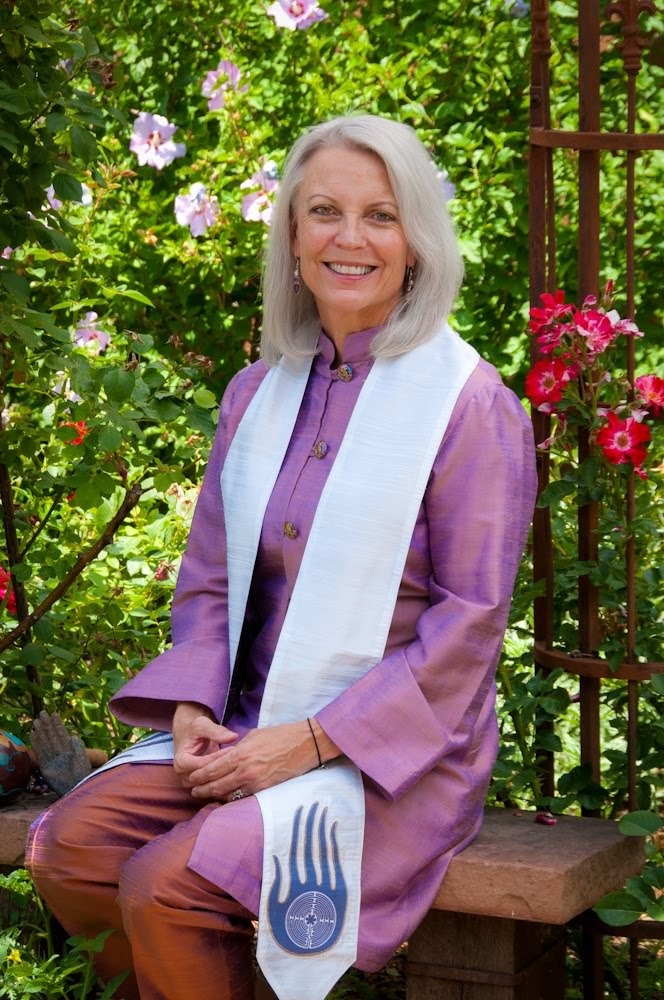 After ordination as a minister, I took a yearlong residency in Clinical Pastoral Education at Kaiser Permanente's Vallejo (California) Medical Center, working full-time as a hospital chaplain, caring for the sick and dying, their families, and staff members. Subsequent to completing that residency, I underwent a rigorous written and oral examination and was granted national board certification as a clinical chaplain by the College of Pastoral Supervision and Psychotherapy. I have since also been board-certified by the Center for Spiritual Care and Pastoral Formation (CSCPF), and it is that organization in which I maintain my professional certification, through an annual peer review process.
My other ministerial experience includes:
• creating and officiating at life rituals including weddings, memorials, home and baby blessings • working as a hospice chaplain in Northern New Mexico • working as a hospice volunteer visitor and trained bereavement counselor and grief group facilitator for Kaiser Permanente's hospice in Oakland, California • working as an intern chaplain for Lutheran Ministries to Nursing Homes in Alameda, California • regular public speaking on topics including interfaith theology, grief, death and dying, and sacred listening • guest preaching at various churches • teaching workshops and facilitating ongoing support groups • providing one-on-one spiritual counseling
I am active in numerous professional and spiritual groups, including:
• The Practitioner Community of the Western Moon of CSCPF, a group dedicated to deep psychospiritual development that supports professional chaplains
• Santa Fe Health Care Network
• Twelve-step recovery groups
Prior to my call to ministry, I worked as a writer, editor, producer, art curator and consultant for 30 years. I wrote and edited more than 1,000 articles, essays, books, radio shows, audio-visual programs and other media materials. My background also includes teaching at the small group and collegiate levels; public speaking; public relations, marketing and advertising; hosting live and recorded radio programs; directing art galleries; and volunteering for nonprofit and professional organizations as a board member and fundraiser. I received dozens of awards for my writing, including a prestigious National Arts Journalism Program fellowship. I earned bachelor's and master's degrees in journalism.
If you would like to speak with personal or professional references for me before retaining my services, please connect with me through the Contact page and I will be glad to refer you with the appropriate people.