Life goes on. That glib trope we all seem to spout occasionally, usually after expounding upon the vicissitudes of life, seemed an appropriate title for this blog, given the threat of COVID-19. Despite all this chaos, well. . .life goes on, right?
Last week life failed to go on for a friend of mine, and a little more than two weeks ago another friend's life ended. And in the meantime I learned by utter chance that a college friend of mine had died. None of them died of the coronavirus; instead, for at least two of them, cancer was the culprit, cancer that sneaked up and caught them unaware, too late for treatment.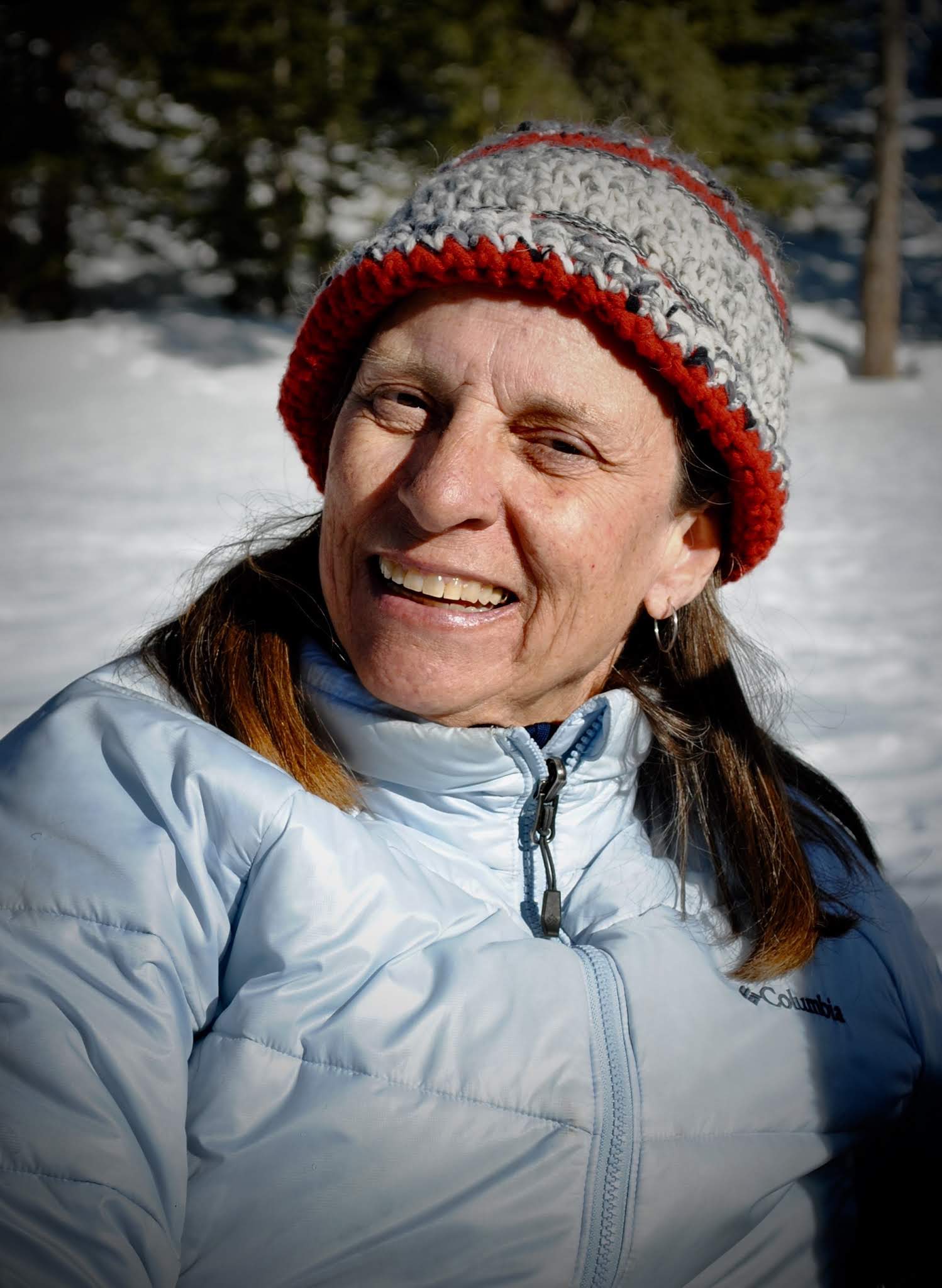 Deb Ungar
Deb was an old friend I had not seen much in recent years; she had been a member of my former partner's close circle of friends, so that when Mollie and I parted ways, Deb and I just skated away from one another, as so often happens. But Mollie and I remain in contact, and when she called to tell me that Deb had been diagnosed with cancer and would be coming down to Santa Fe from Taos for medical appointments, I emailed Deb and insisted she stay with me. So after years of hearing of each other only through Mollie, Deb and I were reunited through her illness.
By necessity our reunion involved Mollie and other friends of Deb's, all loving, stalwart women who made the two-and-a-half-hour drive from Deb's home north of Taos to Santa Fe (or back) usually just before or after they worked a 12-hour hospital shift in Taos or Espanola. (Deb was a nurse, and many of her friends were her medical colleagues.) Deb was barely ambulatory, eating only a few bites of food a day and sleeping much of the time when she came to stay for a few days on two occasions. Oncologists offered her palliative radiation and held out the hope of a clinical trial, but as a former hospice chaplain, I knew Deb was only tenuously tethered to the earth.
Our conversations were at once ordinary and extraordinary. Many focused on her bodily needs of the moment and helping to keep her oriented to time and place and remember what pill was next. I watched her bear terrible pain, and though she winced and swore, she never once took out her suffering on me, and never failed to thank me for the slightest care I showed her.
She already was resigned, with dignity, to her fate. "I'm ready to go," she told me. "I've had a good life." She worried about a few things, especially who would take her elderly shepherd Porter, but she knew her crew of beloved friends well. "They'll work it out," she said with confidence.
Her friends came and went; I and the rest of them mastered the oxygen tanks, organized her belongings as she moved in and out of the house, found the missing this and that along the way. I witnessed the deep bonds she had with them, watched them all consciously edging toward goodbye. They knew too much to fool themselves into hoping for a movie miracle. In fact, the miracle was alive in the moments they had together, the tender kisses and tears, the recognition that those precious, present moments were waning.
After the radiation, Deb went home. By that time, the threat of coronavirus had become apparent, but her amazing group of friends cared for her in shifts, day and night. She died surrounded by her inner circle, who couldn't have cared less about social distancing in those final hours of her life. With Deb, they already had taken the greatest of human risks—that of truly loving another person.
I feel lucky to have known Deb, to have had the opportunity to spend time with her again, to make my small contribution to easing her way home.
A few days after she died, I was on the walking trail in my neighborhood with a friend when I saw my neighbor David on his back balcony. I knew he'd had knee replacement surgery recently and inquired about it. We shouted back and forth across his fence and backyard.
The surgery had gone well but his legs were swollen and painful, he said. Did I know a masseuse who might still be willing to see a patient, despite the coronavirus? I knew immediately who to recommend, a massage therapist I knew with special rehabilitative training. I texted him her number. She called me: did I have a mask she could use so she could safely treat him? I did, and left it in my foyer in a plastic bag for her. Two days later, David left me a message, thanking me for the connection; the treatment had brought him great relief, and she would continue to visit and treat him.
Perhaps 10 days afterward I learned from a friend that David was in the hospital. His knee was the least of his problems; it turned out he had cancer that had metastasized and was inoperable. The discharge plan was to send him to a nursing home. Instead, he died in the hospital just a day or so after she and I talked.
"Grandpa" David, ready to go to a father-daughter

dance with a friend's child
Like Deb, David had a huge tribe of dedicated friends. He had always been the kind of person you could call on for help. I once asked his advice about a troublesome metal gate at my house and he insisted on coming over to fix it, making multiple trips over several days to get parts and tools before finishing the job. Same thing with a recalcitrant door lock: back and forth he went from his house to mine, until he got my door working again. He would never accept payment.
"It's what friends do for each other," he said, more than once.
I am so grateful I was able to find a massage therapist to bring him relief, if only for a brief while. For once I was able to help David, albeit in a very small and indirect way.
Finally, just moments ago as I write this, I received a forwarded email from a friend who is on the board of a hospice house with me. It was sent through the national network of hospice houses we are affiliated with, and it was from a hospice house in San Antonio. The email referred to the guests who had come to their hospice in the last month, before they closed for the duration of COVID, and specifically mentioned a woman named Mary. The email was accompanied by a photo collage of Mary from youth to old age.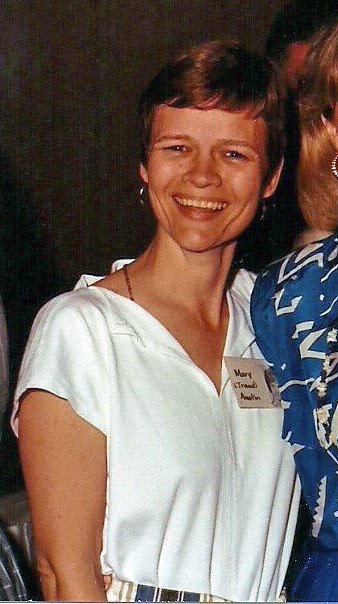 Mary, in the era when

we became friends
I gasped when I saw the photos. I recognized Mary. She and I went to the same college, and she had been a mentor in my radio work. I had edited a textbook on audio production she had written with a faculty member. And he had emailed me just two days before, in search of her contact information. I had not heard from him in years. I was gobsmacked, to say the least.
It strikes me that these three losses have much in common. Deb and David and Mary were people with whom I had off-and-on connections; our life spheres overlapped only by a crescent moon sliver, yet came together again with an unbelievable synchronicity—in Deb and David's cases, just before their deaths, and in Mary's, just after.
Before all of this happened, I had been dreading the inevitable, the phone call when I would learn that someone I knew had COVID-19, then the news that someone I knew had died of it. Instead, three friends are gone, yet their deaths had nothing to do with the chaos of the time. It is a stark reminder that death—in some ways more extraordinary even than birth—is also desperately ordinary. Death comes, no matter what else is going on, when it is time.
And it is true that life goes on. Until it doesn't, for someone we know and love, though it continues to go on for those left behind. Then, and only then, can we lay claim to "life goes on" as more than just a cliché, but as both the blessing—and curse—that it is.