How are you coping these days, my friends? Due to COVID-19, everyone I know is engaged in some sort of intense examination of our world, a questioning of self and society, and experiencing a lot of general anxiety about what's happening or not happening. I am taking the emotional temperature of me and my friends almost obsessively. And I'm fascinated by just how resilient and hopeful we remain, despite all appearances that all is not well in our world.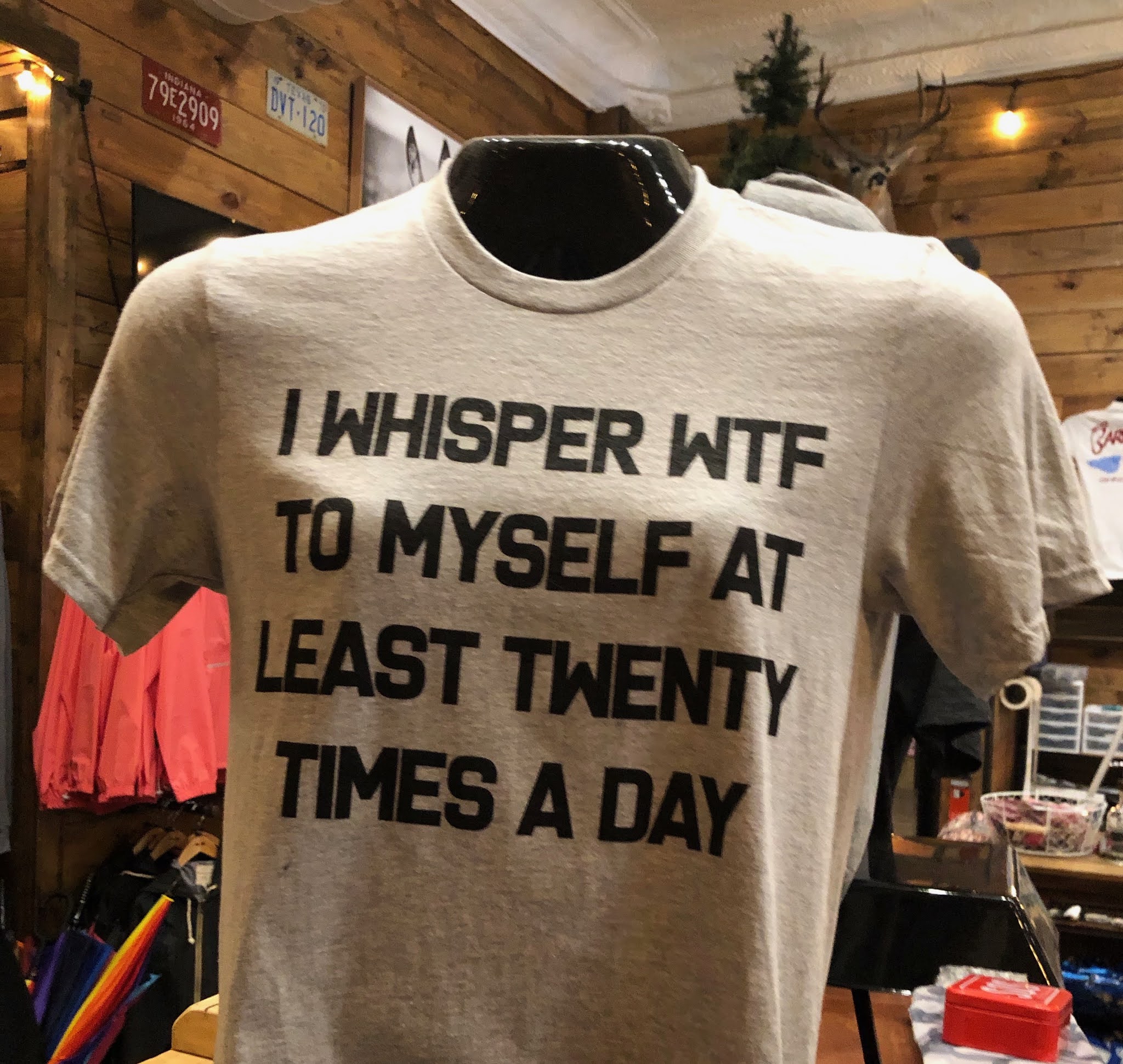 No caption required
My friend Fenton, who lives less than a city block from me, has been quite isolated by the virus. He's 87 and has vision loss and can no longer drive; friends have been helping by taking him on errands, since car services don't seem to be a safe option these days. He's signed up for a meal service; orders multiple dinners from favorite restaurants, picks them up, then divides and freezes them; and most recently, invented a way he can safely dine with friends that he calls Garage Dinners.
For starters, you have to know that Fenton has the cleanest garage anywhere. Not only is there almost nothing in it—no car, since he no longer drives, for one thing—but the floor is immaculate. Whatever excess possessions Fenton owns are hidden in a series of white cabinets mounted on the wall. The only objects in his garage are a freezer, two long folding tables and a few chairs. The garage has a back door open to his back yard, and a standard roll-up garage door. Initially, the folding tables allowed Fenton to have friends deliver things and leave them for him without contact. (Recently, we used them as a collection site for paper grocery bags our neighborhood gathered for donation to our local Food Depot, which needed them desperately due to the increase in people requesting food.)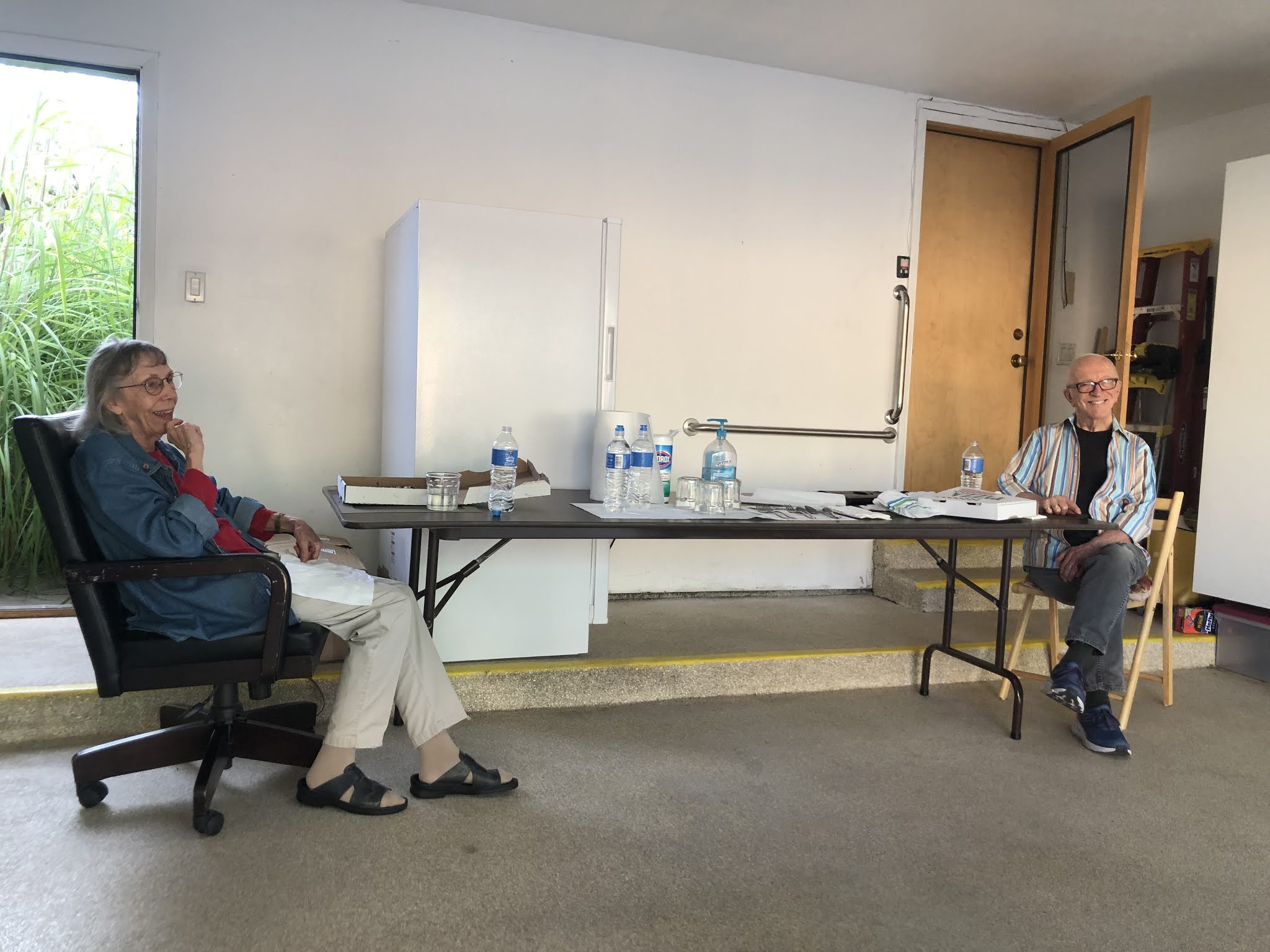 Jane and Fenton at our Garage Dinner
After spending way too much time alone—as so many of us have—Fenton lit upon the idea that four people could sit at the ends of the two folding tables, with the tables arranged more than six feet apart, and safely dine together. And even though the outdoor temperature has been in the 90s during the daytime, with the garage door rolled up and the back door open, the space would be comfortably cool. And rather than try to cook or order food that would please all four people, he thought, why not just have everyone order and pay for their own dinners from a local restaurant, and draft one of the attendees to pick them up?
Thus began Garage Dinners at Fenton's. I was lucky enough to be invited to attend one recently, and also invited to bring a guest. My friend Terri and I ordered our food from our nearby Joe's Diner and picked up dinners ordered by Fenton and the friend he invited, another neighbor named Jane.
Fenton provided bottled water, napkins and utensils; I brought homemade herb bread as an adjunct, and Jane brought no-bake chocolate cookies. The four of us spent a lovely evening together, getting acquainted (none of us knew all the other three), gossiping about real estate in the neighborhood, and laughing a lot. Since then, I've been in touch with all three of my companions for various reasons and feel relatively confident we may all get better acquainted—maybe we'll even have another Garage Dinner. (But it will have to be at Fenton's, Jane's, or Terri's—my garage is not fit for dining!)
Fenton's desire for social contact sparked his creativity, and the rest of us were only too glad to participate. What would have seemed like a slightly weird idea during normal times ("Come on over to my house, we're doing to dine in the garage!") makes perfect sense in COVID-19 times.
But it took a pandemic to create Garage Dinners.
I was talking the other day with my friend, the amazingly talented artist Alexandra Eldridge, about what we have lost due to the pandemic. She put her finger on it with absolute clarity.
"There's no chance meetings with someone you know at the store, no opportunity for spontaneity or serendipity," she said. "Without that, creativity is dulled. Everything has to be so programmed right now in order to be safe. Life is so tedious."
I think what Fenton did was find a path around that tedium.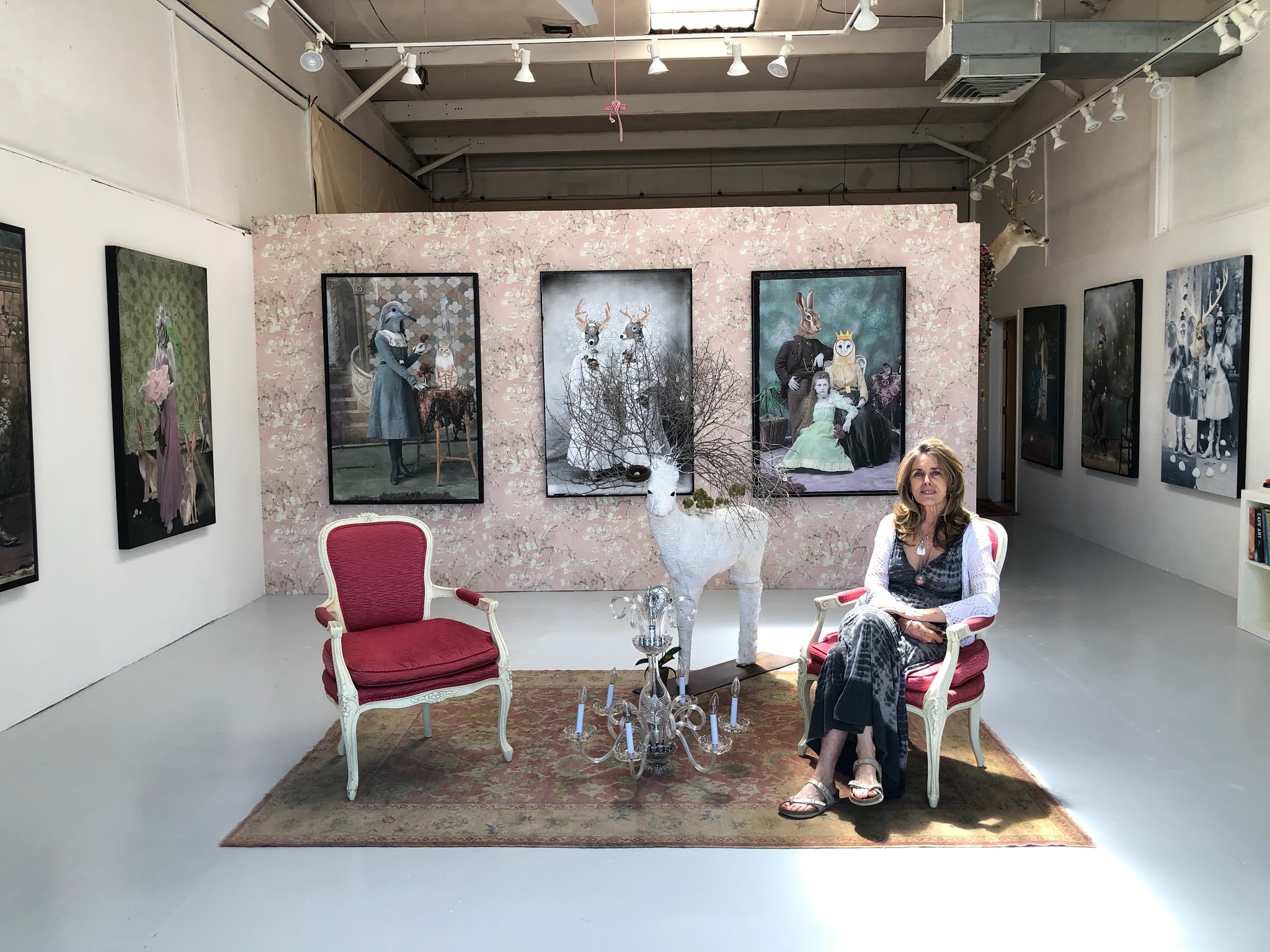 Alexandra Eldridge in her new salon space
Alexandra did it as well. When the artist who rented the space next to her studio moved her work home, Alexandra worried for a time about finding another kindred spirit to rent it. Then she just decided to rent it herself and created a marvelous salon-style space immediately adjacent to her working studio. Like Fenton, she chose to shake things up.
It was a completely counter-intuitive move. It's a pandemic, after all. Who would double their rent during such uncertain times? But Alexandra had always wanted a space where her work could hang and be seen without the clutter of her active studio—the canvases, furniture, painting table, desk and the like competing for the attention of anyone who visited. The pall of COVID made her feel—well, If not now, when?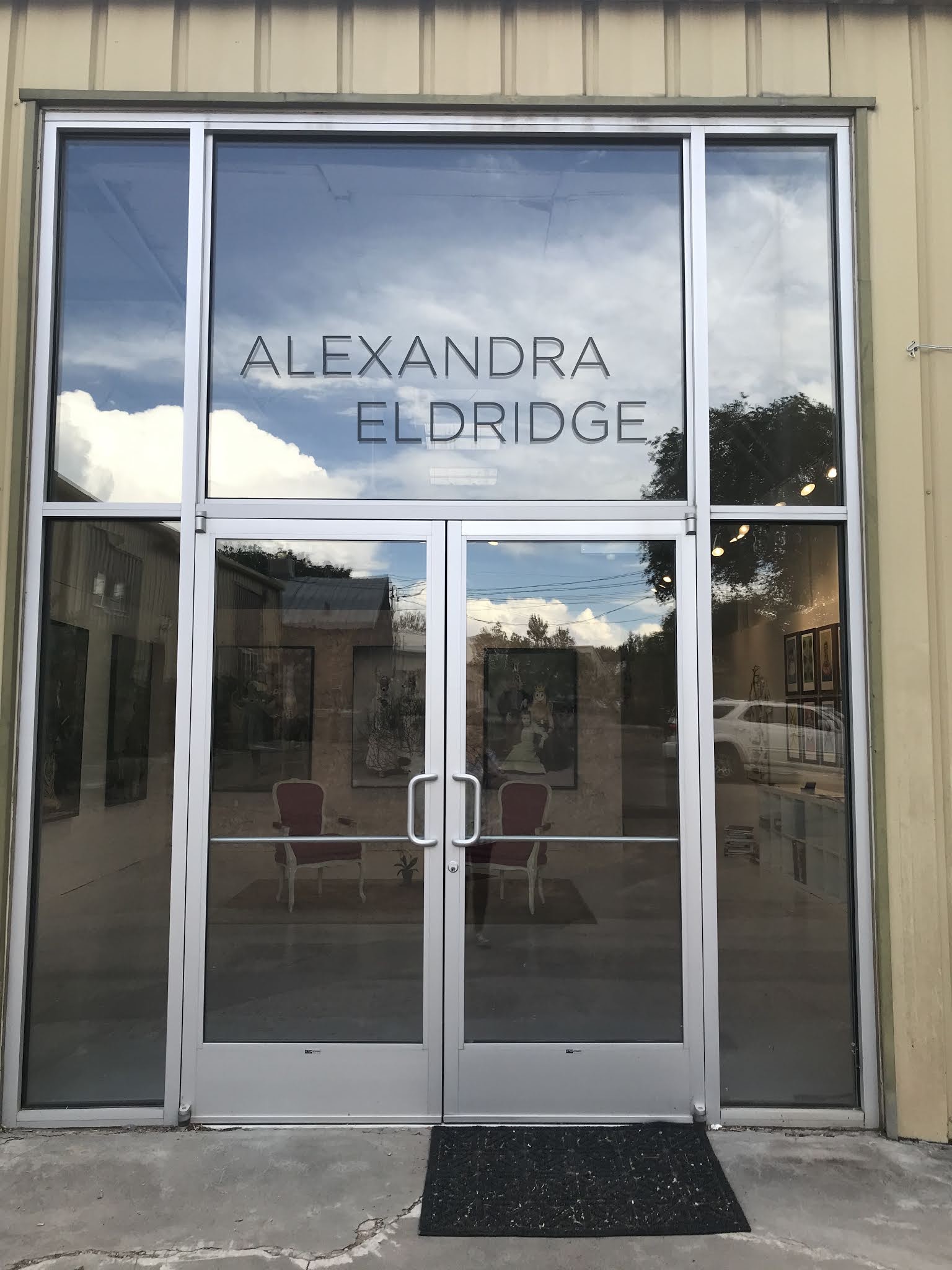 And she did something even more self-affirming than signing on for the additional rent. She put her name in big letters over the doorway, claiming the space and her value as an artist. It felt emotionally risky, she told me—but it felt right. Now, no one can mistake whose work is on the walls, visible through the giant glass windows.
Necessity is the mother of invention, as the saying goes. Or tedium parents creativity, you could say. Instead of asking ourselves what the heck comes next, maybe instead we should be looking for something to do that's a little counter-intuitive, a little weird, a little spontaneous. I'll get back to you on my progress with that. Feel free to let me know what you're doing along those lines. You can use the Comment function or send me an email: hollisadairwalker@gmail.com.