After my sister and I cleared out my mother's house before its sale, I came home with some childhood books that I wanted to keep, and stuck them on a shelf haphazardly. Among them was one of my favorites, The Five Little Peppers and How They Grew.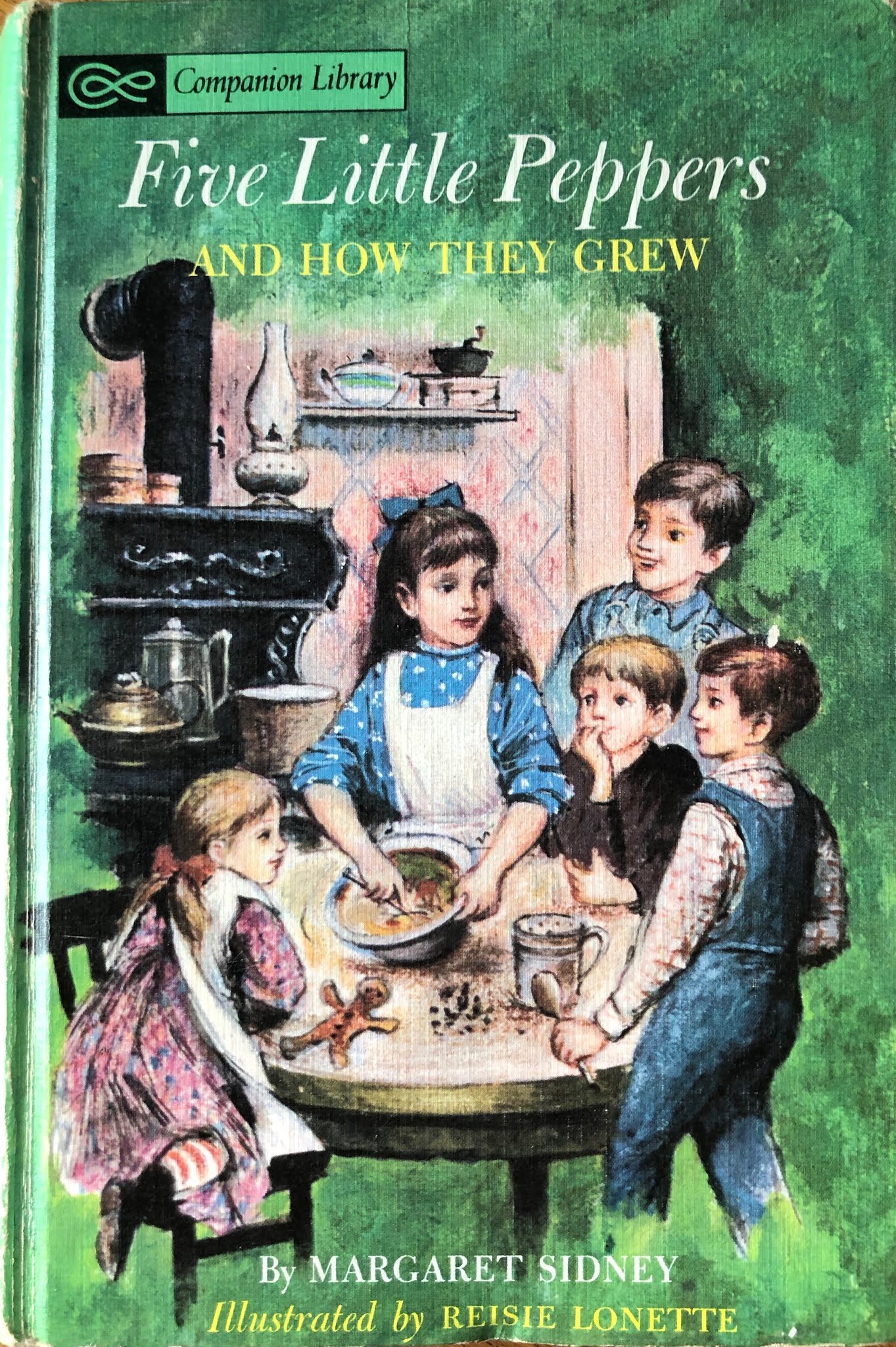 Recently I've heard numerous radio interviews with famous folks in which they've been asked what they're reading. Many of them have admitted to re-reading books they'd first read years ago—not books of the War and Peace variety, but those of the Jane Eyre ilk. Likewise during this plague, many of us are watching old movies or TV shows. I've indulged in a little Monk—his germaphobia totally resonates with our COVID-19 world. But I've also found myself finding searching out newer fare, the kind of violence-free dramas that address meaningful issues while still offering some modicum of normality. My latest favorite is the Australian Broadcast Corp.'s The Time of Our Lives, a brilliant family drama (of which only two seasons are available on Amazon Prime, alas). Before that I watched Prime's Tales from the Loop, which was just as good, in a sci-fi way.
I think we're all searching for comfort in our entertainment choices. The witty chef Samin Nosrat, author of Salt Fat Acid Heat and the eponymous Netflix series, confessed on a radio interview I heard that for dinner the night before, she'd cooked Annie's Macaroni and Cheese with English peas. As the interviewer giggled and stammered, searching for an appropriate response, Nosrat replied, "Why not? It's comfort food." The next time I was at the grocery store, I bought a box. I'm saving it for a particularly comfort-deprived day.
And so it was that I pulled The Five Little Peppers and How They Grew off the shelf for a read. It took a few days, tucking a little reading in between work and other demands, but I found myself thoroughly engrossed. The story captivated me, just as it had when I was an 11-year-old. That's when I got it, as my penciled note, "Hollie Walker, March 1967, Book Oasis Book Shop" attests inside the front cover.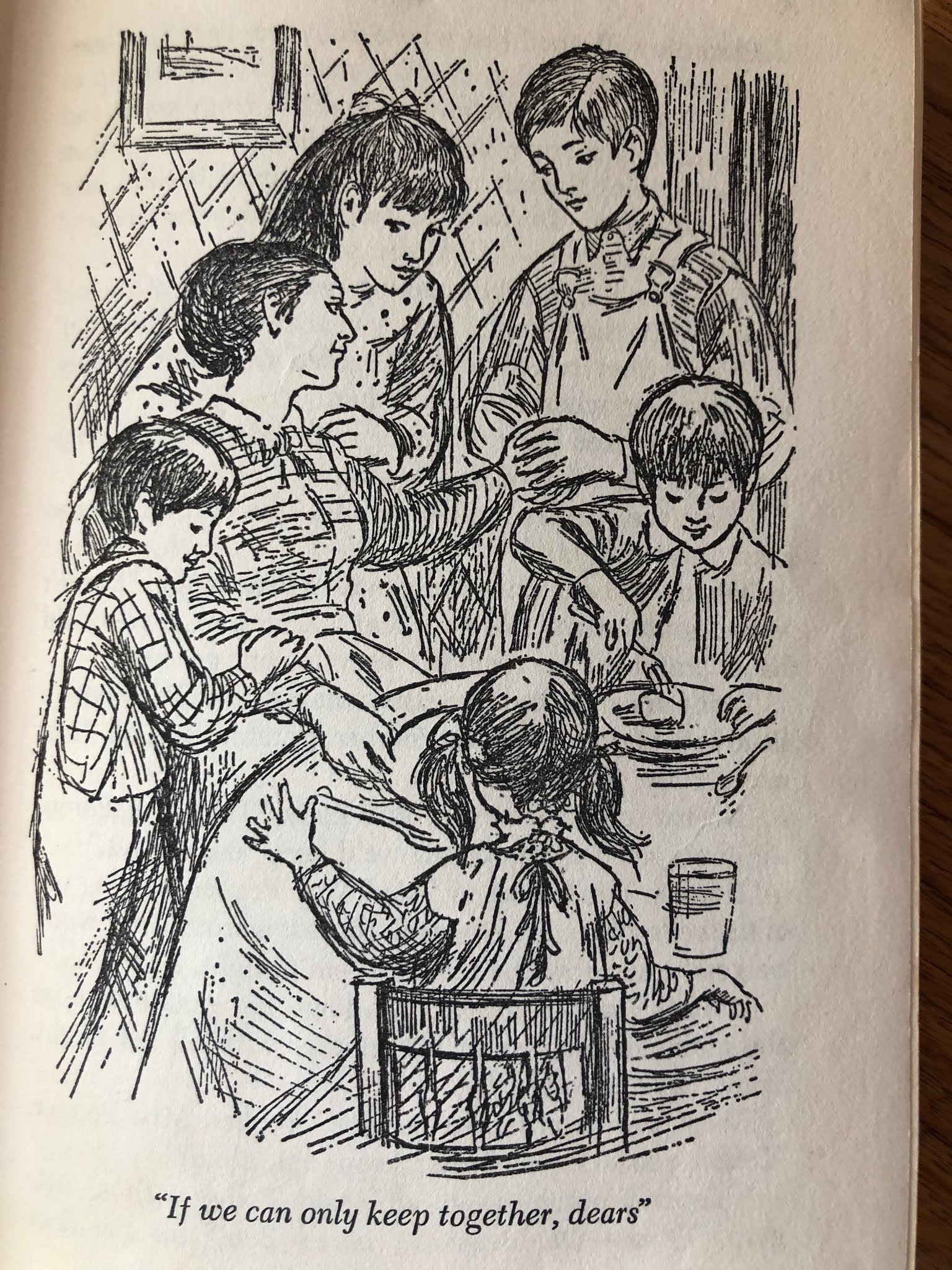 Illustration by Reisie Lonette
For the uninitiated, this book was the first of a series of twelve books by Margaret Sidney that were published between 1881 and 1916. Columbia Pictures made a series of four films, very loosely based on the books, beginning in 1939. The first of these children's comedy-dramas was shot in black and white. I never even knew there were books about the Peppers beyond How They Grew, so when I read this on Wikipedia I was bereft. Eleven more books about the Pepper family that I had missed?
The edition I have was published by Grosset & Dunlap in 1963 and features wonderful black-and-white illustrations by Reisie Lonette. I'm going to risk reproducing a few here, they're so sweet.
The story was immediately familiar as soon as I began reading. "Mamsie," as the widow Pepper is known to her five children, is struggling to support them as a seamstress. The children range in age from three to 11 and—though they sometimes act up a bit as normal children do—are completely devoted to their mother, whom they treat with love, respect and gratitude.
The language is most interesting. Complex vocabulary words such as "eminently" show up on page one, along with "sententiously" on page three. Archaic usages sent me to the dictionary more than once. I learned that a "shakedown"can be a makeshift bed; that a "cricket" is not just an insect or a game, but also a footstool; and "cunning" once meant attractive, as in, "a cunning little cake." I never found an explanation for what the littlest girl, Phronsie, did when she "made a little cheese," but I'm guessing she burped, since any reference to farting—even euphemistically— was surely taboo in the 19th century.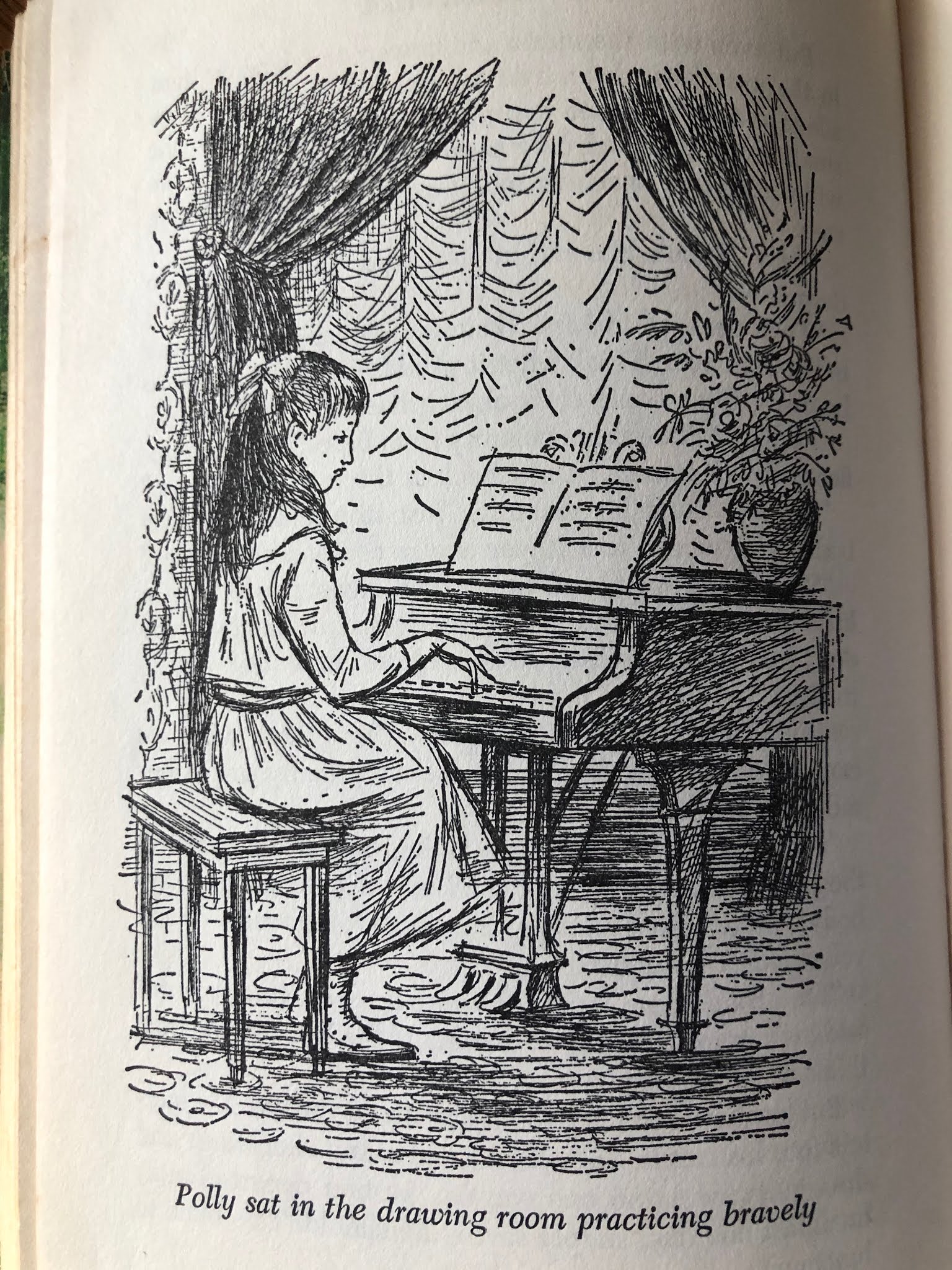 Illustration by Reisie Lonette
The style of writing was also fascinating. It's hard to know how many of the curious aspects were simply typical of the times, and how many were peculiar to children's literature of that era. For example, the children never seem to "say" anything, but "cry" this or that:
"O me! O my!" cried Polly. "How you look, Phronsie!"
"I want my mammy!" cried poor Phronsie.
And then of course there are the endless exclamation points.
I think I likely identified with the eldest daughter, Polly, who is 10 and already helping her mother with her sewing work. Polly is also responsible for cooking, and troubled by the crappy old stove in the Little Brown House where the Peppers live. (I, too, am obsessed with my crappy old stove; a bit of synchronicity there? And in the Hollie/Polly similitude?) Ever helpful to her mother, Polly plays a surrogate mom to her younger sister, Phronsie, and is often in league with older brother Ben in solving the family's problems. Polly is creative, assertive and thoughtful—not a bad role model at all, and likely how I envisioned myself.
I was able to suspend my analytical thinking long enough to immerse myself in the fantasy of this not-so-perfect yet perfect family life: no father in sight, no money for white flour, not enough food on the table—and yet hope saved the day, every day. A lovely message, though in today's world, I'm pretty sure the simple story wouldn't engage an 11-year-old.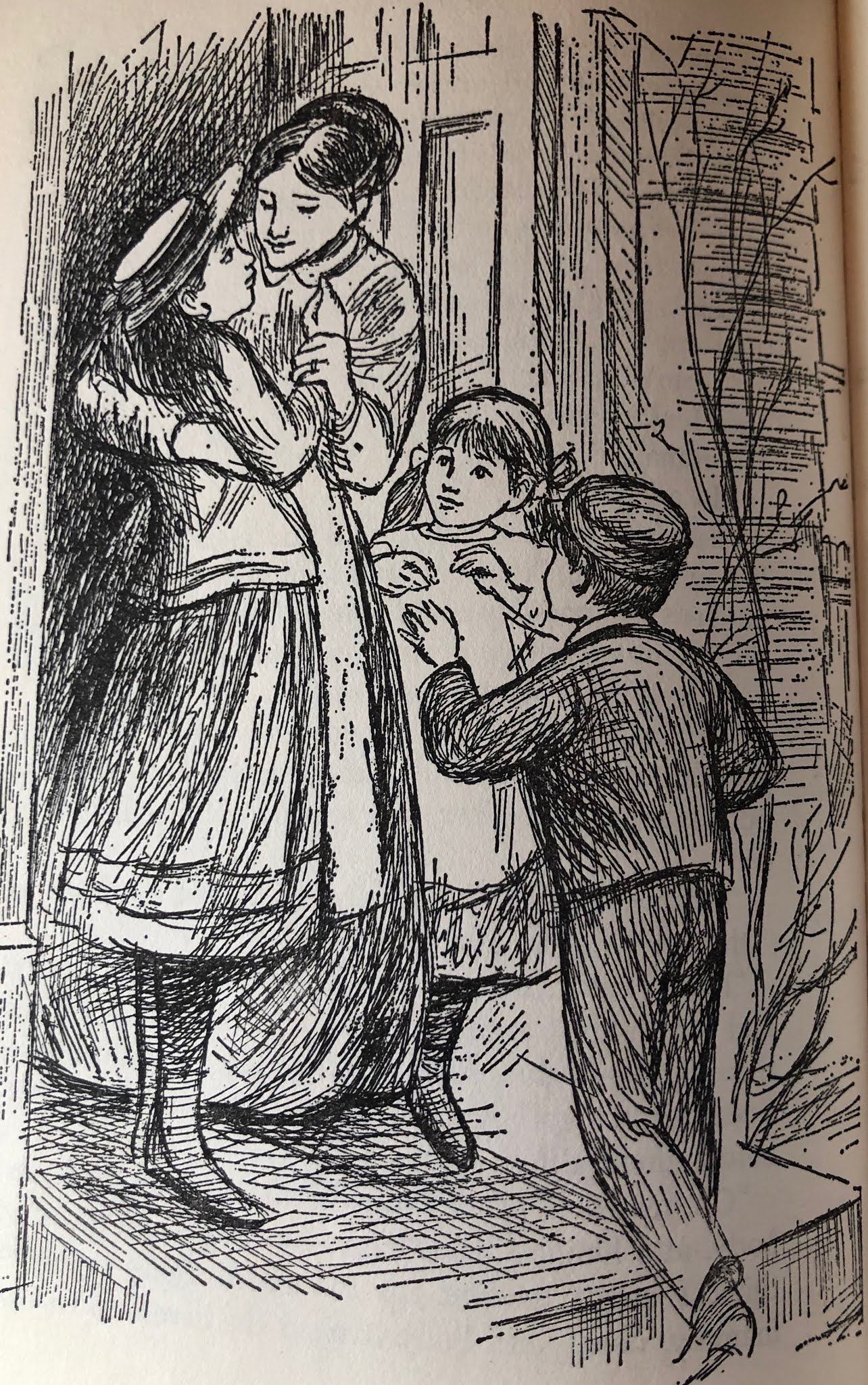 Illustration by Reisie Lonette
Hope seems to be in short supply these days, along with comfort. I strongly recommend a delve into your nostalgic past to find them, whether it's Jane Eyre or Annie's Macaroni and Cheese or The Five Little Peppers and How They Grew. Coronavirus has shorted our lives in so many ways; why not let it give us permission to indulge in some simple pleasures drawn from the simpler times of our lives?
One of the themes of the story that I'd forgotten resonated with our current crisis: The children all get measles, and several sicken to the brink of death before recovery. It's easy for us to forget that such childhood illnesses once killed a great percentage of those who contracted them. Gratitude for life comes easily when death threatens:
"Seems as if 'twas just good to live," said Mrs. Pepper thankfully, once, when her thoughts were too much for her. "I don't believe I shall ever care how poor we are," she continued, "as long as we're together."
*The book The Five Little Peppers and How They Grew is available in paperback for $6.95 (Dover Children's Classics) on Amazon. Since the word "eminently" still appears on page one, I assume the text is the same as it was when Sidney wrote it.