This is the first in a series.
During a recent online meeting of my professional chaplaincy peer group, we were discussing the recent move of one woman from the Bay Area to Orcas Island, and the upcoming move of another member from the Bay Area toMaine (all this was before the fires, by the way), when one of the group said something like, "Well, if you're going to make the Big Pivot, during COVID would be a good time to do it."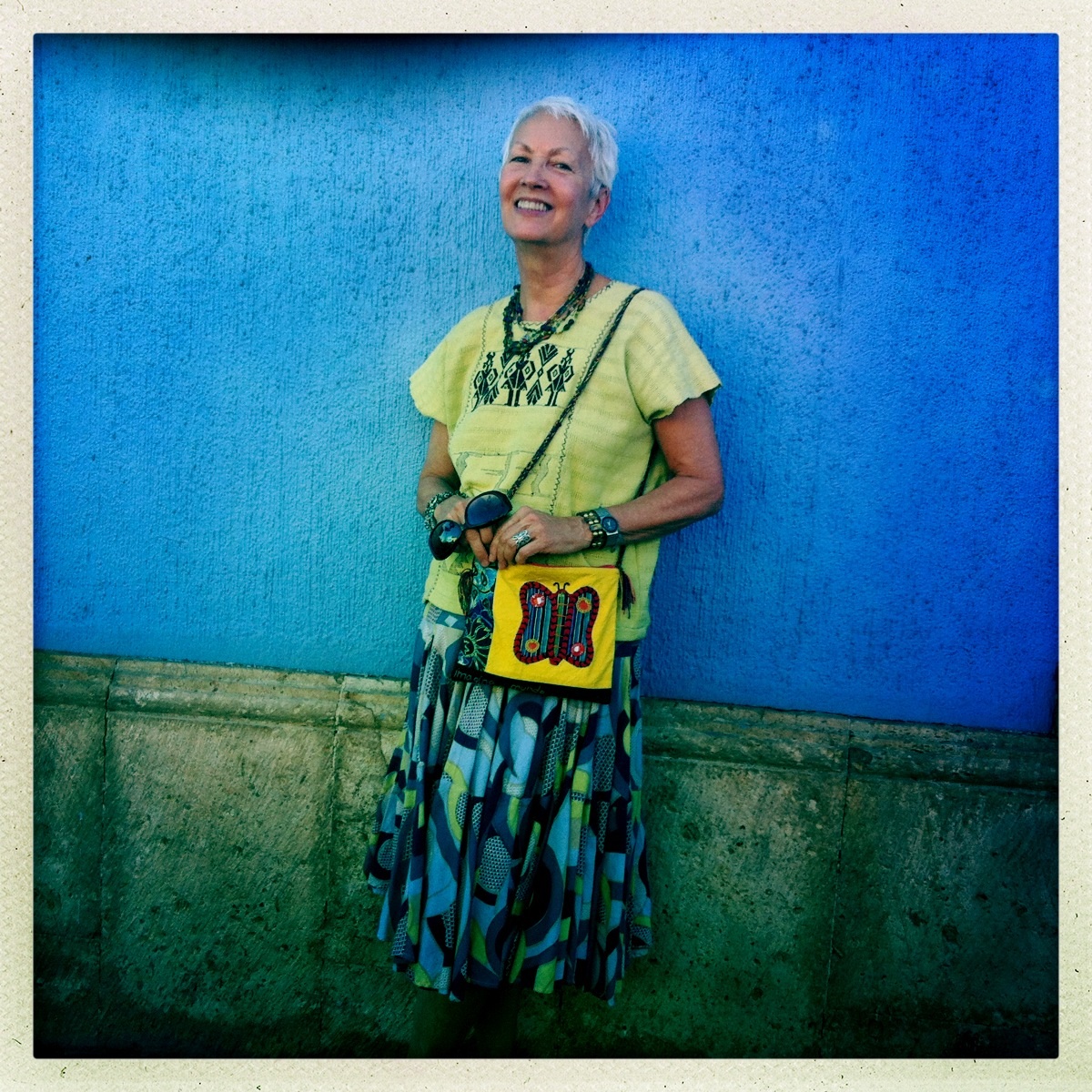 Lena Bartula
Knowing the stories of each of these women, I was struck by the aptness of "Big Pivot." I started musing about all the women I have known who have, for a variety of reasons, picked up and moved from one place to another after age 50. I grew ever more curious about them. Did I really know why they'd left their homes of many years to relocate? Had they ever been sorry? What was it like to take what seemed to be such a huge risk rather late in life? And how many women out there are considering a Big Pivot right now, due in part to COVID-19?
The first woman I knew who made such a Big Pivot was Lena Bartula, whom I had known in Santa Fe as an artist, writer and owner of Guadalupe Fine Art on Canyon Road. (She distributed a bumper sticker for a time that said "In Guad We Trust," with an image of the Virgin of Guadalupe. I still see them around town occasionally.*) Lena and I knew one another fairly well; she'd hosted and participated in a writing group I facilitated in her gallery space. She'd allowed me and a friend to produce a ritual art performance piece in her outdoor space one year. I'd always loved her art and had a few pieces in my collection.
But by the time Lena left Santa Fe, we weren't closely connected. I'd followed her progress only on Facebook.
All I really knew was that Lena had moved to San Miguel de Allende, a popular American expatriate destination in Mexico, and had continued to make art.
I didn't really know why she had left.
"I think I was done with Santa Fe," she told me in a recent phone call. "I knew it so well, but I wasn't attached to it anymore." Lena decided to sell the gallery, which she had owned for six years. It sold easily, and for a good sum, part of which she invested in a house she began to renovate while—free of the duties of gallery management—she was able to focus intently on her art again.
She continued to sell her art through other galleries, but then trouble brewed up a perfect storm. One gallery didn't send her art back when it was supposed to; another was selling her work, but not paying her; still another didn't pay her for work sold—with the excuse that they'd bought another building and couldn't afford to pay her!
In 2004, Lena had an exhibition in San Miguel. She'd dreamed of moving to Mexico for a decade.
"I knew it was time to stop thinking about it and take a chance," she said. She was 57 years old, but that didn't faze her. "My newly renovated house sold almost immediately, and I took that as the sign I had been waiting for." Lena had never wanted to move to San Miguel, "but something in my mind said it didn't have to be written in stone." She told her partner at the time that she'd decided to move to Mexico.
Her partner decided to go with her.
Ultimately the pair landed in a small town 45 minutes from San Miguel called Mineral de Pozos. each loved living in Mexico, but their relationship was strained, and in four years, they parted ways. Serendipitously, a friend invited Lena to join her on a trip to India. It should be clear by now that Lena is not risk-averse; of course she said yes, subletting her newly rented home.
Upon returning to Mexico, Lena decided to move to San Miguel. With her part of the proceeds from the home she had owned with her former partner, Lena was able to buy a house in San Miguel, ultimately opening a small gallery in which to show her work. Now she lives in the gallery building and rents her home for a reliable source of income.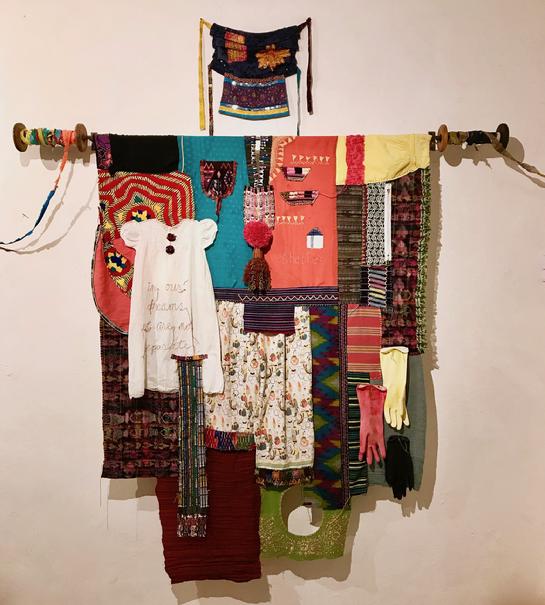 In Our Dreams, Huipil, Lena Bartula
For several years, Lena has been making huipils, the traditional garments worn by women from central Mexico and throughout Central America, and showing them in her gallery, called La Huipilista Art Space, as well as in other venues. She mostly shows her work in Mexico these days, but remains open to exhibitions father afield.
Sixteen years into her Big Pivot, Lena has some sage advice for any woman considering such a move.
"I think that success in a big move like this depends on your sense of adventure, your comfort zone, and what needs you have on many levels. All of my big shifts have been intentional, and I pay more attention to my gut feelings—my intuition—than the economy, the logistics, or most anything else on other people's scale of value.
"This way of moving through the world has not just suited me, but rewarded me as well."
You can see Lena's artwork at www.lenabartula.com, and check out her bilingual book, Whispers in the Thread/Susurros en el Hilo, which you can order through her website or Instagram. In Santa Fe, her book can be purchased at Garcia Street Books, 505-986-0151, garciastreetbooks.com.
That's what the great Swiss psychiatrist Carl Jung called synchronicity, of course: apparently random events that are connected in a meaningful way. In future posts about other women who've made a Big Pivot, we'll find that synchronicity played a role in their journeys as well.
And in case you're wondering how the universe sends its messages to Lena—Garcia Street Books? It's about two blocks away from Lena's former gallery space.
*If you want a "In Guad We Trust" bumper sticker, you can email Lena at lenabartula@gmail.com and you can buy one from her! Or 20!