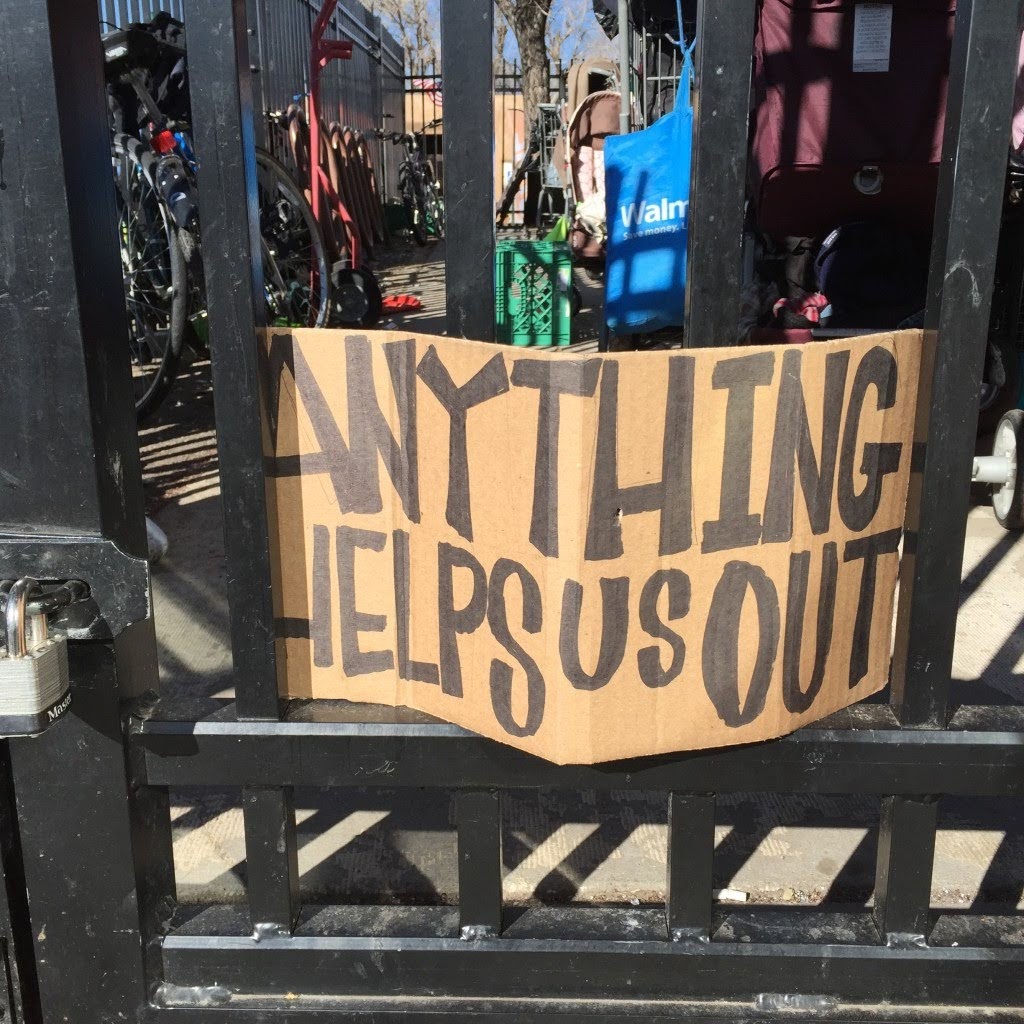 Photo: Hollis Walker
Last Sunday I had the opportunity to take the pulpit at First Unitarian Church of Albuquerque, and once again, I talked about homelessness.
After I was invited to speak at UU-ABQ, I felt I couldn't simply take the last sermon I'd done on homelessness in Santa Fe and "export" it to Albuquerque, so I visited a few of the shelters in the Duke City. I spent a little time at the Heading Home/Albuquerque Opportunity Center, the downtown Albuquerque Rescue Mission, and Barrett House, a transitional housing center for homeless women. Employees of each of these places spent some of their precious time telling me about their guests, their challenges, and their dreams for the future. It was, as always, a humbling experience. I work at Pete's Place, the interfaith homeless shelter in Santa Fe, once a week as a volunteer chaplain. That's quite different from working with the homeless and their never-ending problems on an ongoing basis. I salute those people who have the tolerance, compassion and determination to do this important work every day (especially my friends at Pete's Place).
But what I learned was interesting. The homeless people of Albuquerque are really no different than the homeless people in Santa Fe. And though there may be regional differences, I'm betting if I spent time in a Los Angeles shelter, or a Des Moines shelter, or a Fort Lauderdale shelter, I would find people with the same problems and challenges everywhere.
So, though I rewrote my "Angels in Disguise" sermon for the Albuquerque audience, the sentiments are the same. Nevertheless, I hope you'll take the time to watch the new version of this sermon.
One of the people who inspires me is Father Gregory Boyle, founder of Homeboy Industries in Los Angeles, whom I had the privilege of hearing speak in Santa Fe recently. The gang members his program helps face many of the same challenges as the homeless. He calls these disenfranchised people "the easily despised, the readily left out, the demonized, the disposable."
"How do we obliterate, once and for all, the idea that we are separate?" he asks. "The truth is we're all in need of healing. . . .All of us are a whole lot more than the worst things we've ever done."
But all is not about the individual. "If love is the answer, community is the context," Father Boyle says.
We must face problems such as homelessness and gangs through community, in concert together. We must see the suffering as our kin. We must learn that "service is the hallway that gets you to the ballroom," according to Father Boyle.
How are you being of service in your community? Perhaps working with the homeless or gang members is not your choice. Find something, some way in which you can help other people, and I promise you, you will find a freedom and joy you never imagined could be yours. The rent can be overdue, your spouse can be angry with you, the IRS can be challenging your tax return. . . but you can make peace with all of this when you are in service to others whose suffering is greater than yours.
As Father Boyle suggests, "Imagine a circle of compassion, and then imagine no one standing outside of it." Can I get an "Amen?"