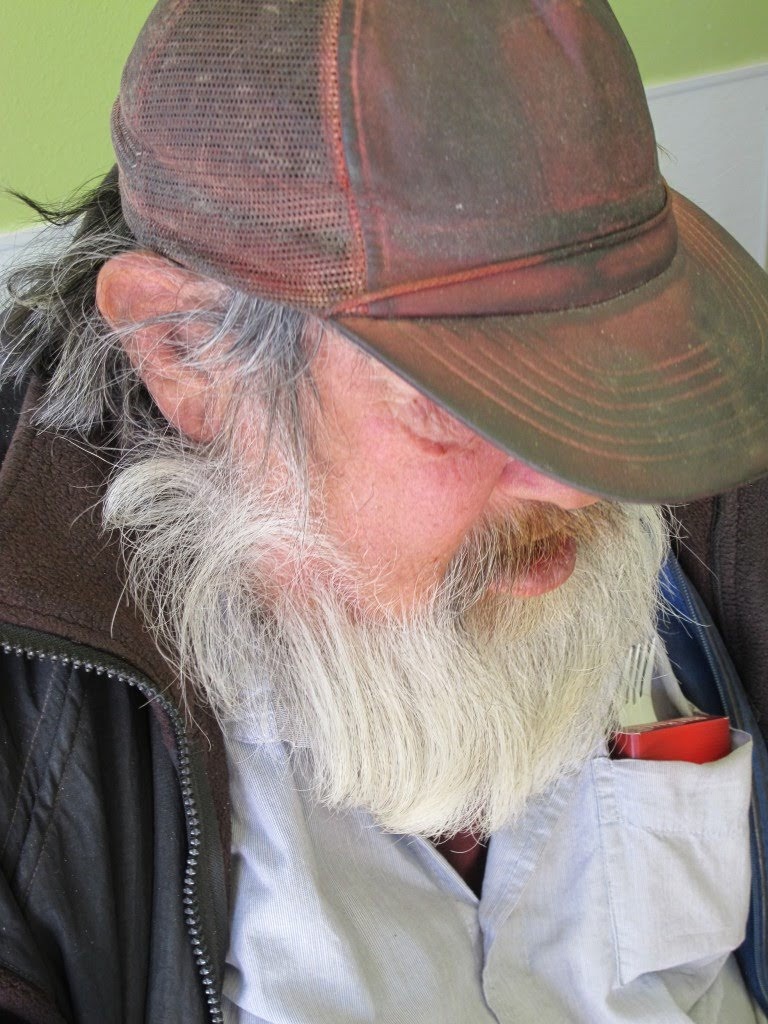 Photo: Hollis Walker
The man at the left—Danny Jones—was too shy to let me photograph him for a slide show I did earlier this year about Pete's Place, the interfaith shelter for the homeless in Santa Fe, where I volunteer as chaplain once a week. Danny died last week at the apartment that shelter workers had helped him procure. He had lived under a bridge for years prior to that, and it took a great deal of courage on his part (and encouragement from the shelter staff and volunteers) to get Danny, a veteran with many problems, into that apartment to stay.
Danny apparently died in his sleep of natural causes. He had many medical problems, some related to his years of homelessness. I had last seen him at the shelter—where he still came by to see the Health Care for the Homeless nurse— a few days before his death. I am so grateful I had talked with him recently.
When I first met Danny, he scared me. He was usually unclean and always unkempt, his hair longish and greasy, his beard untrimmed, his hairy stomach sticking out of his too-tight shirt. He had very few teeth, and as a result, it was almost impossible to understand him. He would stare at me out from under his ancient ball cap whenever I tried to make contact, then growl at me, and when I said, "I'm sorry sir, what did you say?" he'd wave a hand at me in disgust and look away, or struggle to his feet and walk off.
But something happened one day. I understood something Danny said. I think I had asked him something banal, like, "How are you today, Danny?" and he mumbled back, "Awful!" I stopped. "What's wrong?" I asked, sincerely. "What's not wrong?" he quipped. Hallelujah! We had connected. It was a start.
Our conversations often were simple verbal jousts, he usually pretending to complain about something, me querying, he making a clever comeback. Our relationship soon became physical. Danny liked to pretend he was going to hit me, or push me over, or elbow me. The first few times he did this, I was startled, and jumped away as if my life was at stake. And then I got it. Danny wanted to play!
After that, whenever Danny pretended he was going to smack me (and instead smacked his fist into his other hand, not into my face) I would do the same, act as if I were going to punch him in the arm, and then miss. I also began to make it a point to put a hand around Danny's shoulder, or on his back. It was purely instinctual on my part, but when I later thought about it, I realized probably no one ever touched Danny (except, perhaps that nurse he needed!).
To me, this is one of the greatest tragedies of being a homeless person: most are loners. A few have partners and presumably intimate lives, including the healing touch of someone who cares. But many get little in the way of safe human touch except perhaps for an isolated sexual encounter. The women in the shelter hug one another, and some hug the men. But the men rarely touch each other, except in that locker-room, brawling fashion of slapping each other on the back or arm.
So I made a point of touching Danny, and Danny never violated the unspoken covenant invoked by my touch. That is, he never touched me inappropriately. The last day I saw him, he was sitting at one of the dining hall tables. I stood, talking with him, and put my hand on his shoulder. He put his hand on my calf, and we stood there, comfortable together, talking amiably. He had come by to see the nurse, he said, as always; his knees were hurting. I was always amazed that his physical complaints were so few. Danny was obese, and I suspected diabetic; I knew he sometimes drank, had smelled alcohol on his breath and seen signs of drunkenness. But he wasn't always drunk, and he was never surly or belligerent to me or others, that I saw. The skin on his hands was terribly calloused from years of exposure to weather. He must have hurt all of the time, inside and out.
The most I ever learned about Danny was that he was from somewhere in Kansas, and had been a truck driver at one time. He could talk about the highways all over the Midwest and West, the places you didn't want to get caught in a snowstorm, and the like. I never heard him mention a family member, wife or children. Once I saw him on the street and walked out of the shelter to talk to him, afraid he wasn't coming in that day. We talked about how Santa Fe had changed, the businesses on Cerrillos Road that had disappeared, how different everything was now, compared to years ago. As neighbors do.
There was just something about Danny, and I loved that something. Perhaps it was that playful little boy I perceived in him, joking and jousting and joshing, which belied his years and his suffering. He seemed to be who he was, not pretending to be anything different.
I am going to miss Danny. I will even miss his hairy stomach. I remember how Joe, the shelter's director, begged Danny to take a shower one day, even found a new, clean shirt that would fit him, and just when Joe thought Danny had agreed, he was gone.
At some point, I quit seeing Danny's oversized gut, and I quit worrying about whether I understood everything he said. I believe we had achieved what Father Gregory Boyle says is the most important thing to achieve: kinship. We were both just people, after all, trying to get by.
So many people pass us by during our lives. The ones we remember are not always the ones we expect to remember. I know I'm going to remember Danny.