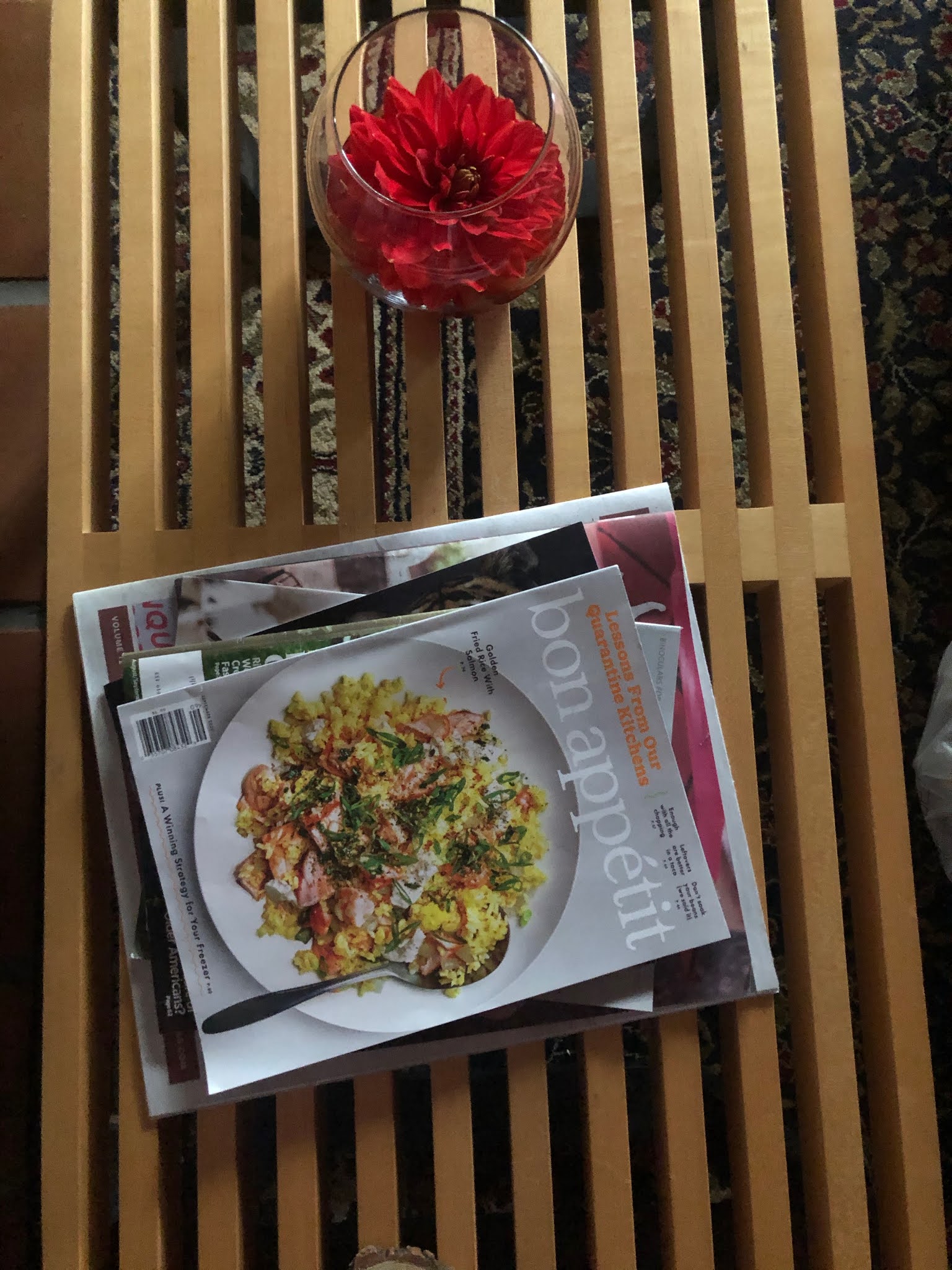 The coffee table pile
I was telling my friend Andrea—who had just loaned me a novel—about the strange book arrangement on my bed that has evolved since COVID-19 began.
My attention span is not at its usual level these days, something to which some of you might be able to relate. I can't seem to settle on a single book to read.
During Ordinary Time (pardon the theological reference), I have one book on my dining room table, and read it while I eat lunch when I am at home during the day. I generally have a pile of magazines on my coffee table, which may or may not ever get read, depending upon my TV-watching patterns of the moment. I always have a couple of books on the back of my toilet. Enough said.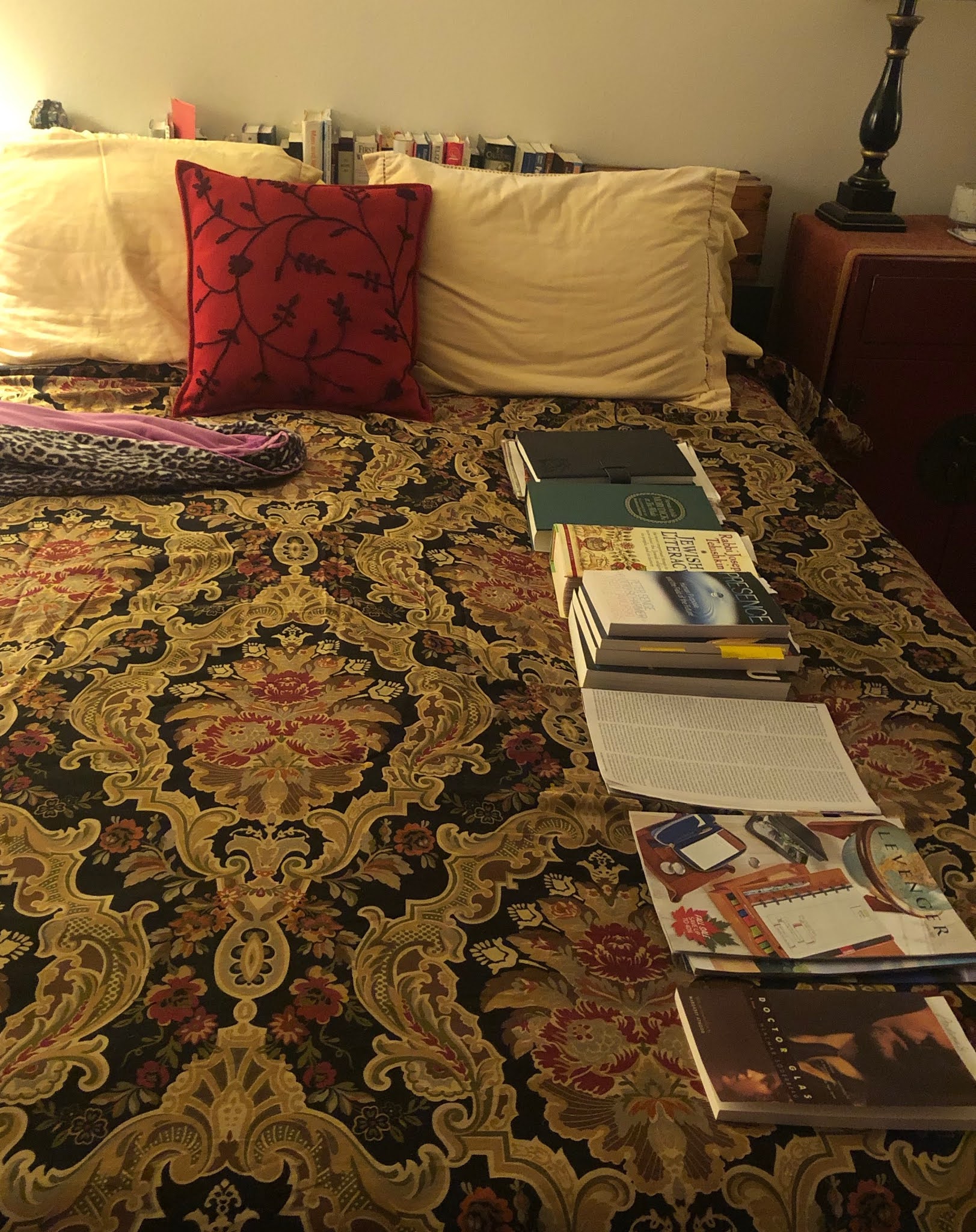 My new sleeping partner
And I usually have at least one book on my bed, plus a lineup of books crammed onto the narrow little shelf behind my bed. These are books that I haven't yet read but think I might, soon. (This does not always play out. Occasionally I take all of these books and cram them on a shelf somewhere else, and the collection of "read soon" books grows back like—well, like a virus replicating itself.)
But the current arrangement of books on the bed is rather odd. As Andrea pointed out after I described them to her, the books have become my new sleeping partner. They are, in fact, lined up lengthwise on the bed in the space a lover or partner would occupy, were I sharing my bed with such a person these days. I'm reading them all, a bit at a time, occasionally thinking about getting rid of one or another of them, but find I can't make that hefty a decision right now. Here is the current roundup:
§ A sketchbook, faux leather notebook, and my iPad, all related to my present off-and-on investigation of Internal Family Systems Therapy.
§ Moby Dick, or The Whale. Consumers of my blog will know I've been reading this for a few months, a bit at a time. I'm up to page 216, almost halfway through. It's slow going due to the Victorian language, but I find myself occasionally stopped by awe at how beautiful Melville's language is. Inside the book is a bookmark and index cards with notes of favorite passages, a habit gained from my mother, who was an avid reader.
§ Jewish Literacy. At 768 pages, this is a dissertation deserving of the description "tome," and subtitled, "the most important things to know about the Jewish religion, its people, and its history," by Rabbi Joseph Tehushkin. Interestingly, like Moby Dick, it's divided into very short, palatable chapters on varying topics, which makes it particularly digestible for me at this time. (I have long been fascinated by Judaism; it was my focused area of study in seminary. And I have long believed that my mother's family, way back when in Poland, was likely Jewish. I found this book in a Little Free Library.)
§ Four books by MIT Professor C. Otto Scharmer on his Theory U, a life philosophy a friend of mine is deeply engaged in living by. Our conversation about it led to my query for his essential book; she left a plastic bag with all four on my doorstep. I have been tasting each, but have not yet committed to making a meal of any one of them.
§ A recent New Yorker. Okay, technically it's not a book, but add up one magazine a week over time, multiplied by the quality of the writing, and one is essentially reading a book's worth of words a month—that is, if one can read the entire magazine each week. I never succeed. Once I have two or three New Yorkers in the bed pile and a new one arrives, guilt overwhelms me, and I remove all but the latest from the stack and place them in the hearth pile—which grows until it falls over, at which time I sneakily place small caches of them in Little Free Libraries or doctor's offices around town. I cannot throw them away.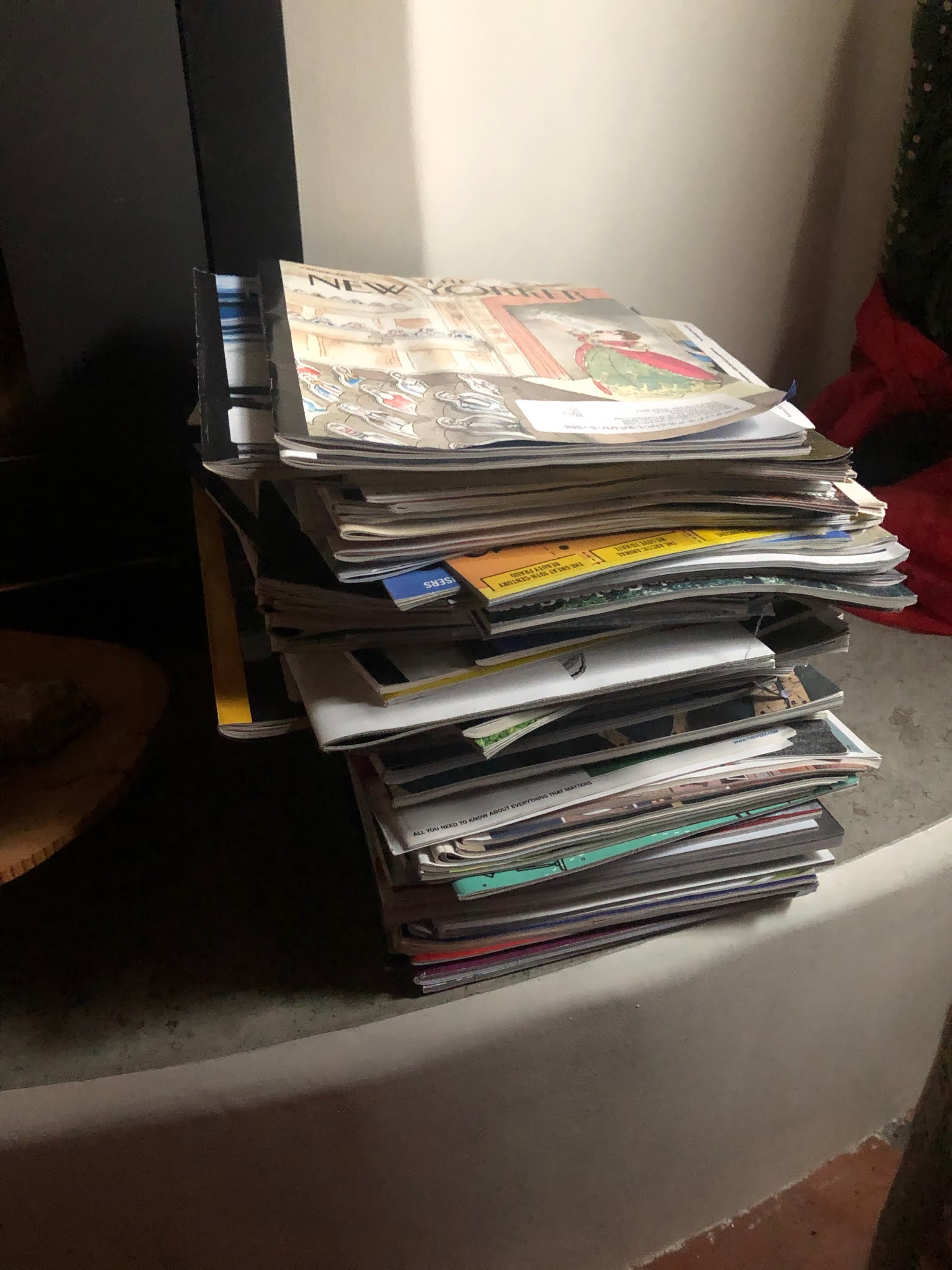 Dangerously close to collapse
§ The catalog pile. Did I call this selection of reading material on my bed my "book arrangement?" Currently, the top of the catalog pile is at least of high class: Levenger is a purveyor of fine objects useful in the practices of reading and writing. They sell necessary items like zippered leather earbud cases, canvas library delivery bags emblazoned with "New York Public" or "Boston Public" logos, and refill paper for leather journals, that paper being of a proprietary design made to fit only Levenger's particular binding system, which involves little plastic discs. Said discs can be purchased in 16 different colors, either for replacement or, presumably, in order to be fashionable. A friend gave me one of Levenger's lovely leather journals and I have been hopelessly addicted to the refill paper ever since. (That's embarrassing, but confession is good for the soul, right?) The catalog pile also includes L.L. Bean and Land's End. (What outdoorsy girl can resist?)
§ Finally, Doctor Glas, a Swedish novel by Hjalmer Soderberg, loaned to me by my aforementioned friend Andrea. Inside is a little note to remind me the book belongs to Andrea. I'll open this when I am desperate to escape the real world. Probably soon.
So, why am I telling you all about the person-long lineup of reading material on my bed? Because, as Andrea said, it is my current sleeping partner, and in a way I cannot imagine a better one. I can choose from among them every night. Do I want intellectual stimulation, new knowledge? To lose myself in a fictional tale? To add to my professional toolkit? To fantasize a life of reading with just the right lamp on just the right side table with just the right notepad at hand, wearing the most comfortable cashmere turtleneck and plaid scuffs with elk appliqués on them?
What single individual could bring me such a variety of choices, such guaranteed joy every night? Who could compete with Melville, Schwarmer, Soderberg—and The New Yorker?
Ever since Andrea called my book arrangement my "new sleeping partner," I've tried to imagine myself in the throes of passion, sweeping the books and magazines off my bed and onto the floor with abandon as I throw myself onto the bed with my new beloved human.
Nah.
I'm thinking the guest room would be a perfectly acceptable tryst site. If it comes to that.