I am, like a lot of other Americans, spending a lot of time in the kitchen these days.
Okay, truth be told, I spend a lot of time in the kitchen anyway. But I'm spending my time there in more creative and expansive ways than I usually do.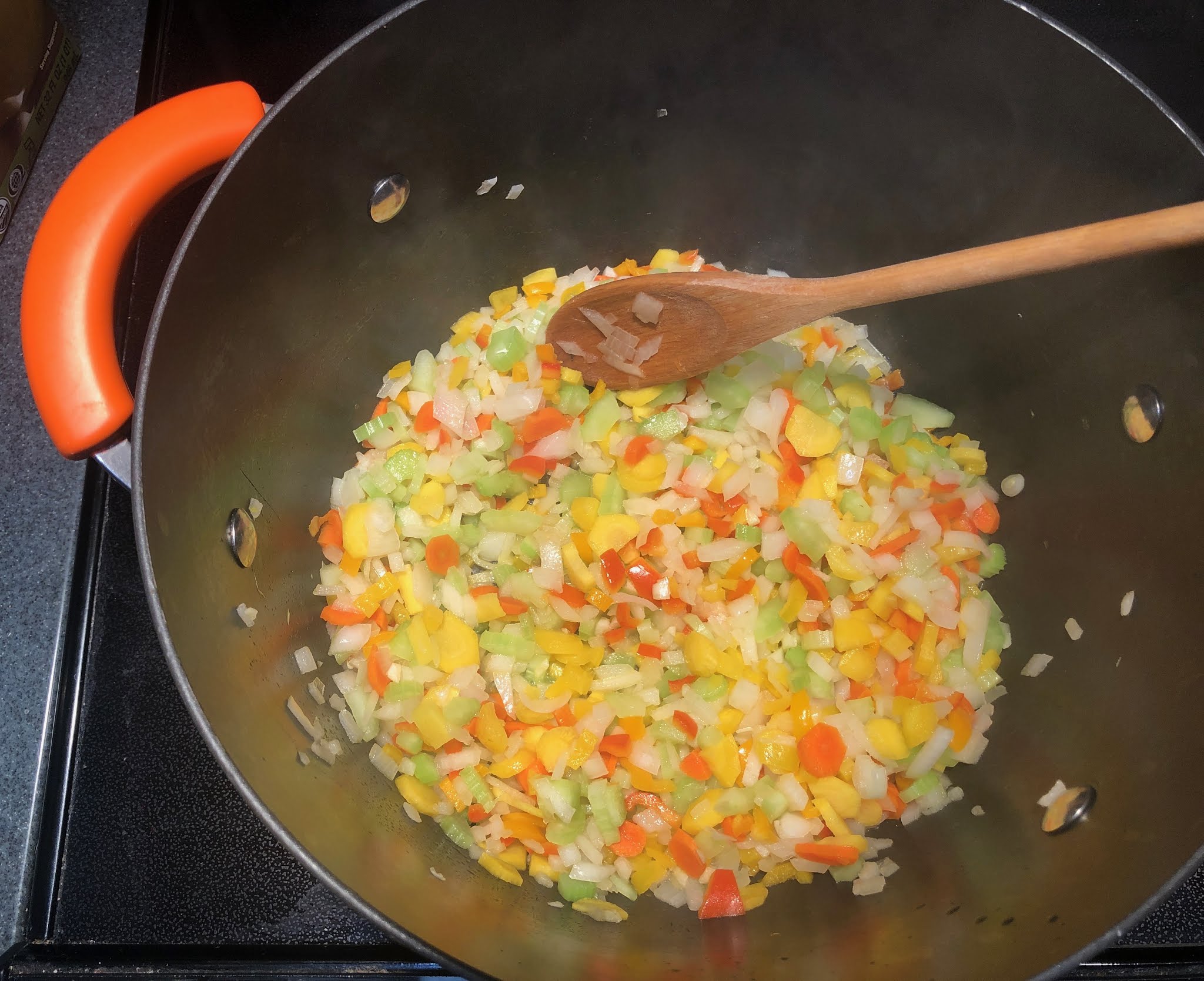 Beginnings of a stiry-fry
Generally, I cook for myself. I have certain reliable meals: breakfast is usually fresh blueberries (for their anti-cancer properties) and 2/3 cup of my homemade granola, with an eighth-teaspoon of my Magic Blend, a combination of ground cinnamon, turmeric, ginger and black pepper (again, it's an anti-cancer thing). Lunch is generally a green salad with whichever of my favorite veggies are available, usually carrots, beets, baby white turnips, tomatoes, colorful bell peppers, plus a boiled egg, maybe some avocado. Dinner ranges from a fairly mundane freezer entrée of fish or a vegan patty of some kind and some steamed fresh vegetables—broccoli, asparagus—or maybe a small baked sweet potato.
But at least once a week, I cook up a pot of something I can nosh on for dinner for several days in a row—Texas turkey chili, chicken soup, bean soups, roasted chicken—good but not gourmet.
But now, Chef Hollis is in charge of the kitchen. She's fussing over the need to have the knives sharpened, and maybe she has to get one of those magnetic strips to put on the cabinet so they're closer at hand. And perhaps a cast-iron Dutch oven would be helpful and better than the old aluminum one. The plumber said she could replace the crappy old electric oven, adding gas instead and getting one of those fancy new duel-fuel ranges. And, he said, the water could be run from the laundry room into the kitchen so she could ditch the ancient fridge and get one with a filtered water dispenser and icemaker. And speaking of the laundry room, the other morning she realized that what she really needs to do is get rid of the full-size washer and dryer and put in a stackable on one side, and convert the other side to shelves, so there is more room for kitchen paraphernalia.
Chef Hollis is rather demanding.
All this is swirling through my head because I am now seriously cooking as I haven't in years. I am trying new recipes like mad—from cookies to Asian stir-fries to breads. Yes, bread. And I've even planted a vegetable and herb garden. Which, I now realize, could lead to canning. Grandma would be proud.
Feeding oneself is nourishing and nurturing, as we all know. But I have gotten into the habit of eating on the run, making do with whatever is in the freezer, getting takeout that I can stretch into two meals, going out to eat at restaurants. COVID-19 has forced me to be more creative with food, and it's also given me the time to do it. And because I have almost no social life (I say almost, as I have some individuals with whom I hike, socially distantly, of course) I have much more time on my hands.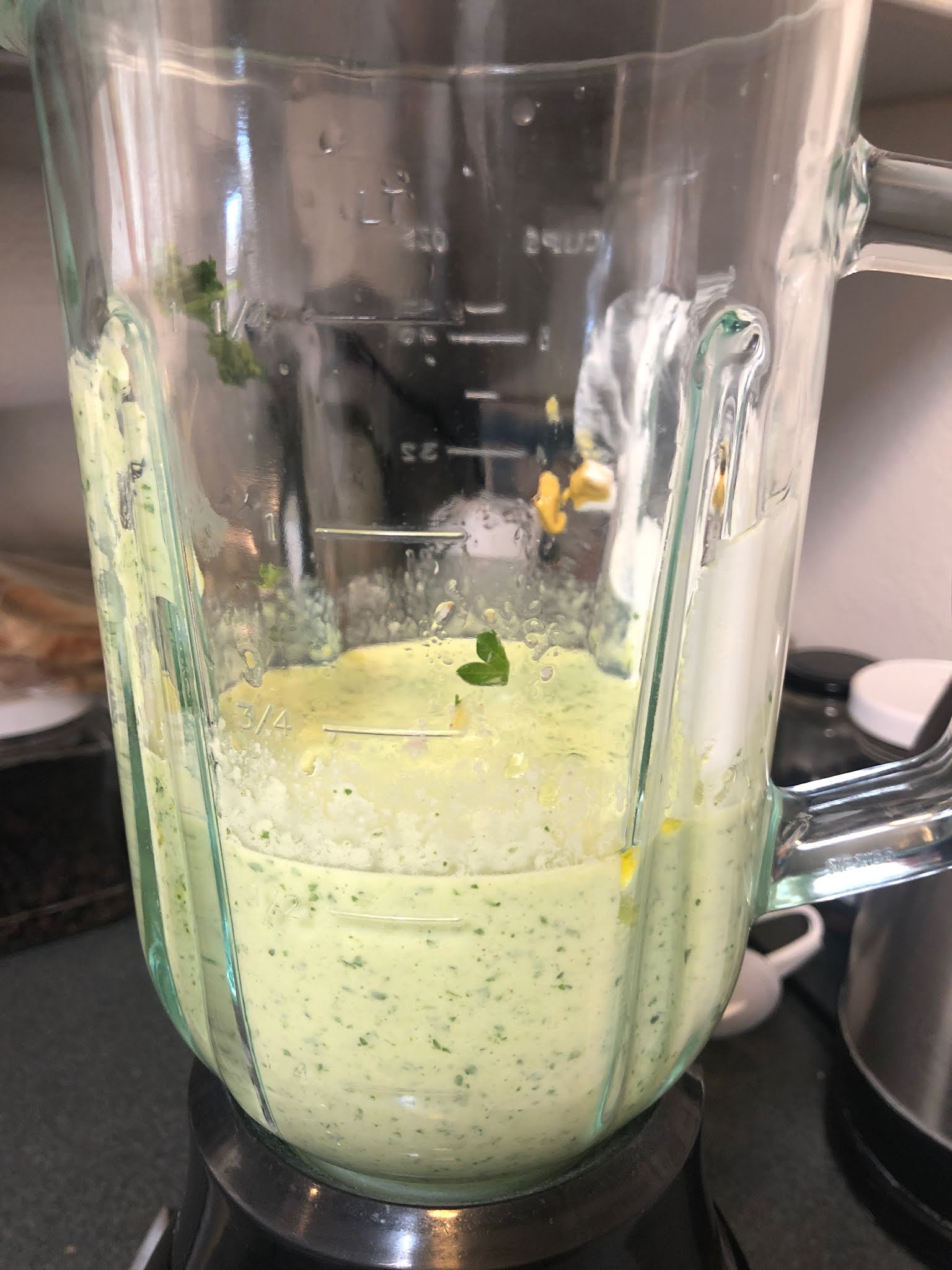 Salad dressing in progress
I'm also reminded that my mother was a great cook. Not a gourmand, but someone who was committed to being a great homemaker, and that included cooking varied, nutritious and tasty meals for her husband and two children. I still cook many of the dishes I watched and helped her make during my childhood—although she had committed so many recipes to memory, and liked to alter them according to her ingredients and whims, that my memory of them may be a bit wonky.
Yet what I learned from her about cooking was so valuable. I learned the basics: which herbs work with which meats, how to "balance" a meal (protein, salad, vegetables, starch), that color is really important in making a meal appetizing. I'm always amazed when I realize a friend didn't learn those things, just by osmosis, in their mother's kitchen. I feel sorry for them. I can see now that Mom taught me how to cook intuitively.
So these days I am applying that intuition more than usual. I ran out of my favorite salad dressing and started blending my own (see my previous blog, "Salad Dressing"). There is something lovely and rhythmic about finding all the ingredients in the cabinet and the refrigerator, placing them on the counter, getting on the stool to get the blender down from the cabinet above the fridge, chopping, pouring, blending, tasting, adjusting. The repetition of these actions is a meditation in its own right.
I'm even "cooking" up homemade lotions and hair pastes, trying out online recipes with beeswax, shea butter, coconut oil, jojoba oil and essential oils. So far, the results have been great, and those to whom I have given face cream report they love it. And of course it costs about 75 cents a jar, compared to $20 or more commercially!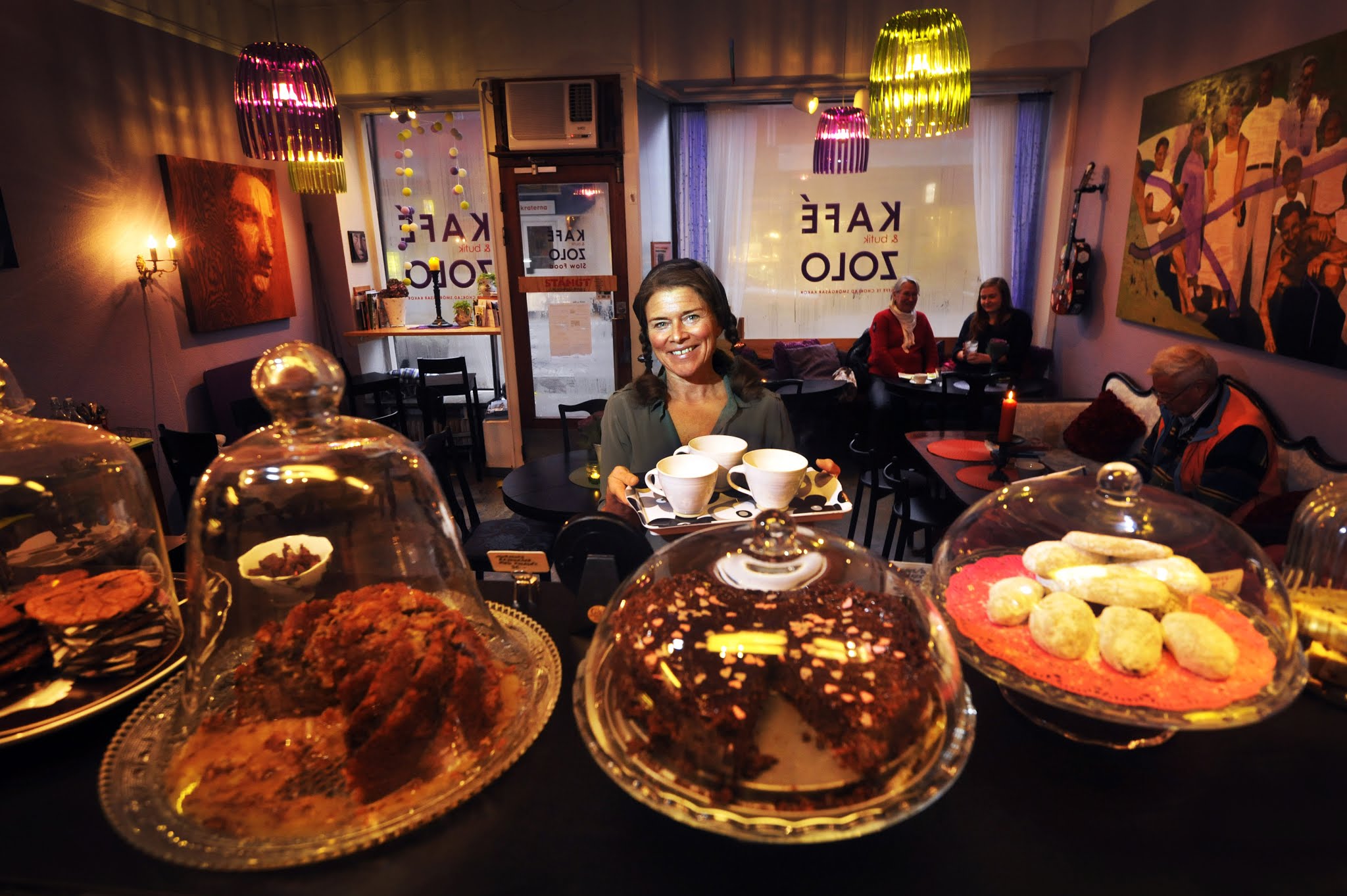 Chef Andrea in her Swedish cafe
Cooking forces me to slow down, to be mindful. We all know what happens if you don't. In my family—probably because my mother was such a good cook—we teased her mercilessly when she made a mistake. There was the time when she made my favorite pie, coconut cream—and forgot the coconut. And then there was the time she burned the frozen peas on the stovetop. We never gave up on that; every time peas were on the menu, we'd say, "So, you gonna burn them, Mom?"
Personally, I have rather famously left the salt out, or forgotten I'd already put it in and salted a dish twice, rendering it inedible. More than once I've discovered an ingredient still in the refrigerator—after completing the dish and even eating it. I did this over the weekend, leaving out the giant bag of spinach that was supposed to go in my Asian Turkey Stir-Fry, and even sharing the dish with neighbors. Oh, well. They didn't know the difference. Another spinach dish will be forthcoming!
Now, mainly due to my marvelous friend who is a chef and former café owner, Andrea Skalleberg (thepigtailedbaker.com), I have begun baking bread.
No one could begin to persuade me to bake bread except for Andrea and the fact that I've eaten so many of her fabulous breads and other baked products. She encouraged me to try to make her No-Knead Bread with Castelvetrano Olives (https://www.pigtailedbaker.com/new-blog/2020/2/1/a-winter-lunch). I've tried with great success a lot of the recipes she developed for her café in Sweden and published in her eponymous cookbook (Kafé Zolo).* Why not bread?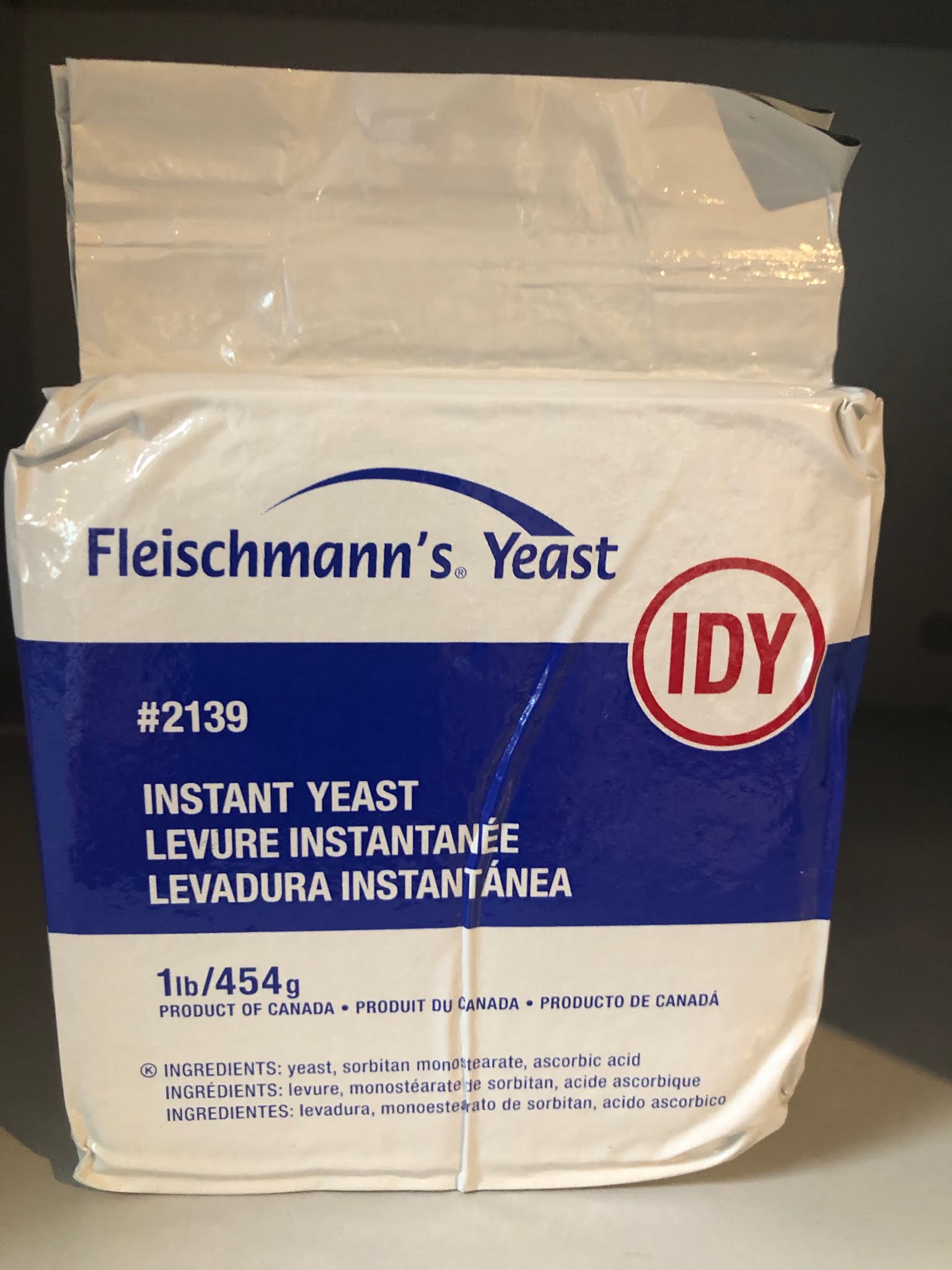 Enough yeast for the
entire neighborhood
But it seems everyone else in Santa Fe is baking, too, and once I visited two groceries—both sold out of yeast—I ordered the smallest size available on Amazon—a pound bag, due to arrive in a week! While I waited for it to arrive, I borrowed some from Andrea. (For those who don't know, you only use at most a teaspoon of yeast in baking recipes. This bag could last the rest of my life, except that yeast does lose its effectiveness over time.)
The rest, as they say, is history. I'm afraid I am bitten by the baking bug. I have, over the course of the last week, made bread using Andrea's recipe and an even faster no-knead version (jennycancook.com). I've made plain bread (although calling homemade bread of any kind "plain" is a travesty); bread with chopped apricots; bread with currants; rosemary bread; and chive-and-parmesan bread. All turned out pretty damned good. I've taken to cutting the round loaves into four quarters and giving the quarters away to neighbors and friends (with mask on, of course!). No one is complaining.
Baking bread is perhaps the ultimate lesson in mindfulness, as any baker and lots of monks know. Baking bread was a staple (sorry) of the 1960s back-to-the-earth movement. I can still bring the cover of The Tassajara Bread Book (1970) to mind instantly—although I never used mine, nor do I remember when I gave it away.
Let's just say I am really enjoying the baking process, and highly recommend it.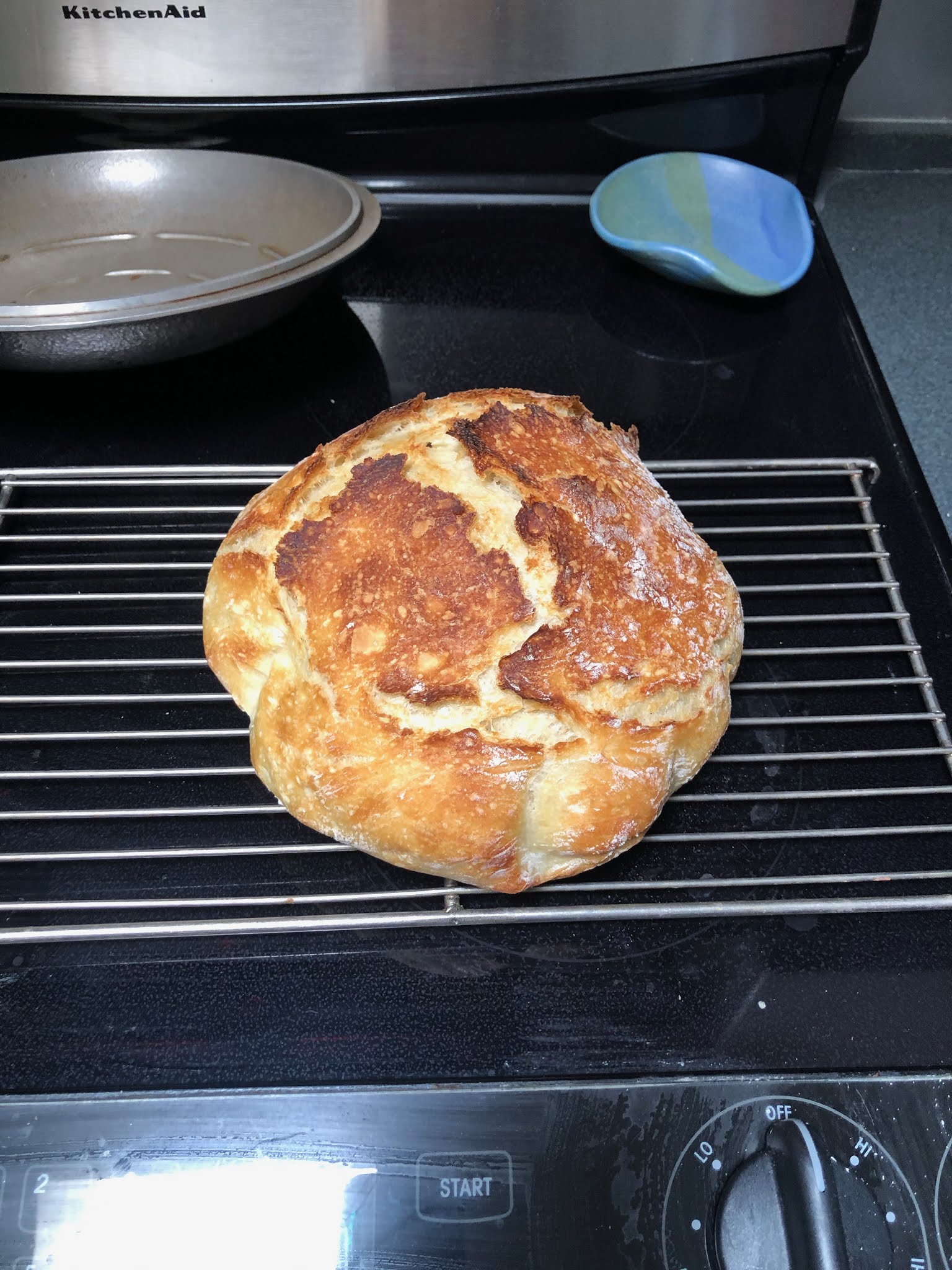 E voila!
I'm sure I will still buy baked products that other people make, as soon as the dangers of COVID-19 diminish and it's safe to shop regularly. But I want to try making cinnamon-raisin bread, and maybe bread with my Magic Blend in it, and I want to attempt to re-create a great cottage cheese-dill bread I used to buy from an ashram in Denton, Texas., when I was in college. I've gone so far as to put all the basic ingredients for my bread on a cookie sheet and am leaving it out on the washer, so I don't have to gather them all again. This is getting to be a serious hobby.
I am even now considering—dare I say it?—trying to make kneaded yeast bread.
Nurturing. Nourishing. Mindful.
Anybody need some yeast?
*If you'd like to buy Andrea's cookbook ($15), it isn't yet available digitally. But send me your email and I'll connect you with her.